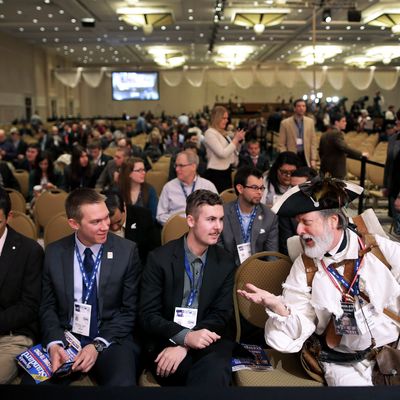 Photo: Chip Somodevilla/Getty Images
With so much business-casual packed into the Gaylord International Hotel for the annual family values bash CPAC, there's bound to be a few hookups. But because attendees may be a bit out of touch, apps like Grindr and Tinder, while certainly buzzing, have not completely overtaken good old-fashioned Craigslist.
The Washington, D.C., "Casual Encounters" section, while not quite overflowing, is active as we head into the weekend, and although some (most?) may be jokes — the one seeking "Boys who look like Sally Kohn or Chris Hayes who need to be tied up," for instance — you never can be sure how speeches from Chris Christie and Donald Trump will affect a person's libido.
According to one sex blogger, "in years past CPAC has developed a reputation for being one of the biggest gay hook-up destinations this side of the White Party." Some highlights from this year's batch include (all links are most likely NSFW):
CPAC - I need a MAN. NOW! - m4m - 36 (CPAC convention) 

Okay.

So. I spend so much time in rural Indiana, CPAC is my only outlet for this sort of thing.

What I'm looking for, you, a masculine Ayn Rand, me, the 47%. And I want you to slap me around hard and give it to me good.

Or…you could bust in my room, catch me trying to enroll in a healthcare market place/state exchange, and the punish me for it. Punish me good.

We can meet at the bar first, if you want. I will be wearing khakis and a navy blue blazer.
Elsewhere, "Big Dad seeks Trim College Bottom CPAC - m4m - 44 (Alexandria Old Town)" and  "College Freshman in Town for CPAC - m4m - 18 (Gaylord)" promises, "Can be very discreet, only here for a few days."
Even as satirical Republican fan-fiction, the ads are great:
CPAC looking for my Allen West - m4m (CPAC)

Patriots!

What an incredible day today was! Christie and Jindal and some great sessions. I am ready to unwind and have some fun. I am looking to make one of my biggest fantasies come true.

Me: Police Uniform

You: Army Uniform
Liberal heathens are also in the building — for work. "Sorry, conservatives, but I just don't find you attractive," writes one woman. "Feel free to email me your thoughts about how my kind is ruining the country and suggestions about how I could get fixed through sex with a republican! I'm sure it will be entertaining."