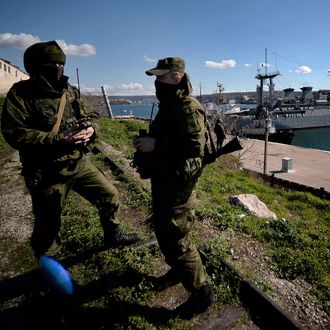 Photo: FILIPPO MONTEFORTE/AFP/Getty Images
With Russian troops continuing to assert their presence in the Ukrainian peninsula of Crimea, the territory's rogue parliament is making things difficult. On Thursday, it voted unanimously "to enter into the Russian Federation with the rights of a subject of the Russian Federation," setting a March 16 referendum on the matter that Ukraine and the U.S. are not happy about. Vladimir Putin, who diplomats say must have approved the move, is presumably pleased.
"Because of this mood and feeling we took the decision to join Russia," said a Crimean politician. "I think we will feel much more comfortable there."
The new Ukrainian government has declared the move illegal and does not recognize the parliament's authority, Reuters reports.
Meanwhile, the U.S. State Department has announced individual sanctions, in the form of visa bans, against unnamed Russian and Ukrainian citizens "responsible for or complicit in threatening the sovereignty and territorial integrity of Ukraine." A U.S. guided-missile destroyer is also moving toward the Black Sea, although the Navy insists it's "a routine visit unrelated to events in Ukraine."