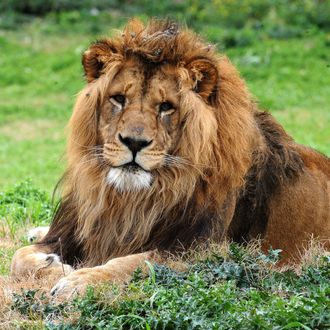 Lion Aquiles father of the four cubs bear at the Parque Lecocq zoo last May 20, in Montevideo rests on August 07, 2009. After 10 years without births, a couple of lions bred four cubs which is not usual in captivity lions.
Photo: PABLO PORCIUNCULA/AFP/Getty Images
Less than two months after the world went crazy when the Copenhagen Zoo put down a healthy 2-year-old giraffe named Marius and fed him to lions, the park euthanized four lions — two adults and two 10-month-olds — to make way for a male lion they plan to introduce to a pair of females. (Whether or not any of these lions participated in the eating of Marius is unclear.) According to a zoo statement, the deaths were necessary due to "the pride of lions' natural structure and behaviour" and the fact that the new guy would have killed the cubs "as soon as he got the chance." He wouldn't have had to answer to a bunch of angry humans, though.