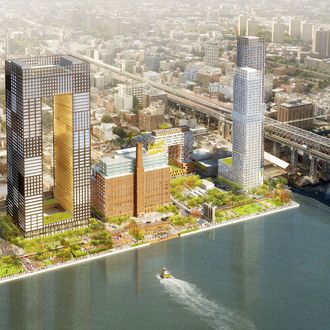 Photo: SHoP Architects PC
When the Planning Commission approves Two Trees' new plan for the Domino Sugar factory site in Williamsburg today, everyone involved will have earned the right to down a shot of bourbon in celebration and relief. Developer Jed Walentas will have nudged his bold vision across the finish line, complete with tech-friendly offices, skinny towers, a public waterfront, and streets lined with small, non-chain stores. The de Blasio administration and City Planning commissioner Carl Weisbrod will have eked out an extra dollop of affordable units, including large family apartments for middle class renters — and made them permanently affordable, so that they can't be deregulated a few decades from now.
The project, designed by the architecture firm SHoP, is deeply idiosyncratic in its site, history, and aesthetics. But as the first major real-estate adventure of the post-Bloomberg era, it does offer one crucial lesson: that the de Blasio administration cares a lot about affordable housing, less about how high the towers grow, and not at all about the minutiae of design. Whereas Bloomberg's city planner Amanda Burden notoriously weighed in on pavers and benches, the latest Domino negotiations were all about numbers.
The new atmosphere brings fears and reassurance on all sides. Developers worry that the city will strong-arm them out of profits; now they can take comfort from the evidence that the mayor will let them supersize. Gentrifying communities that crave affordable housing and hate tall buildings will find that they often can't have one without the other. Preservationists who complained that, under Bloomberg, New York was metamorphosing into a high-rise city of the rich may now see it evolve into an even higher-rise city of the not-so-rich. Architects who chafed under the detail-oriented obsessions of the old regime could now see unsupervised developers revert to generic designs.
The two leaders of de Blasio's development team, city planning commissioner Carl Weisbrod and Deputy Mayor Alicia Glen, are pragmatic veterans, not ideologues. The Domino Deal gave them a platinum opportunity to pursue their affordable housing agenda with a minimum of tradeoffs. But their priority right now is to make the city easier for un-plutocrats to live in, and in the future, if that means more, taller, bulkier, and duller buildings, then they just might adopt the motto: So be it.