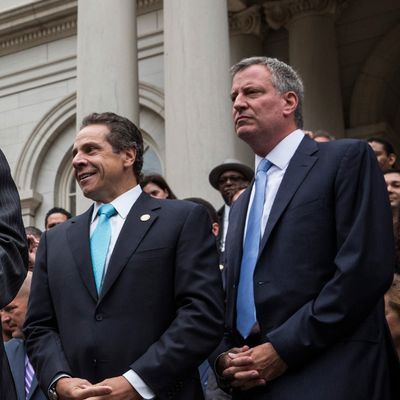 Photo: Andrew Burton/2013 Getty Images
Yesterday, Mayor Bill de Blasio released his second sober, responsible report in a week, this one an implementation plan for expanded after-school options for 120,000 middle-school students. And today, de Blasio will join 1,500 supporters in Albany to continue making the earnest case for universal pre-kindergarten.
Andrew Cuomo will shrug. Oh, thanks to de Blasio's efforts, the governor says he is heartily in favor of more pre-K seats and after-school hours; Cuomo has even claimed he'd personally deliver a check to bankroll the programs. But the governor and key state pols are no closer to approving what de Blasio insists is the only reliable way to pay — a tax on the city's wealthiest — than they were two months ago.
Some in de Blasio's camp are itching to toughen up the tactics. Especially as Cuomo, a master of asymmetrical politics, plays all the angles. De Blasio's long-scheduled pre-K rally Tuesday suddenly got some company last week, when Eva Moskowitz announced she and 2,500 charter-school parents and kids would be busing to Albany. The mayor's camp believes she was encouraged to stage the event, at least tacitly, by Cuomo, as a way to divert attention from de Blasio's rally (though the mayor himself helped stoke attention to Moskowitz — perhaps he should have waited a week to cancel some of her Success Academy co-locations).
Cuomo has believed all along that de Blasio would fold, content to have made a show of fighting the good fight for his liberal base. De Blasio will keep pushing, but his more realistic allies are admitting that the chances of winning the tax hike are shrinking toward zero. So as Albany's month of budget fun begins, the game is shifting to increasing the amount, and the reliability, of the dollars Cuomo ultimately delivers.
The mayor's options to increase the pressure are narrow. De Blasio could start calling out Cuomo's vague promises, pressing him publicly to spell out the particulars of how the governor intends to fund pre-K. But the two men are genuinely friendly, so de Blasio wants to make every effort to keep the relationship cordial and functional.
Cuomo has made delivering an on-time budget a high priority. Yet de Blasio can't depend on Shelly Silver, the Assembly leader, or Jeff Klein, the Independent Democratic Senate leader, to threaten to delay a deal simply in the name of adding money to de Blasio's projects.
There is, however, another point of leverage. The mayor's allies believe that Cuomo cares deeply about winning re-election by a record-setting margin this fall. That will be much harder to do if de Blasio's union and minority base stays home, unhappy that Cuomo has shortchanged the mayor on pre-K. It's a message the mayor can try to send over the next few weeks through labor leaders, influential county bosses like the Bronx's Carl Heastie, and TV commercials. But de Blasio will need to deliver it deftly, so that both men can declare victory on pre-K. Because no matter how the endgame unfolds this month, he's going to have to live with Cuomo as governor for the next four years.