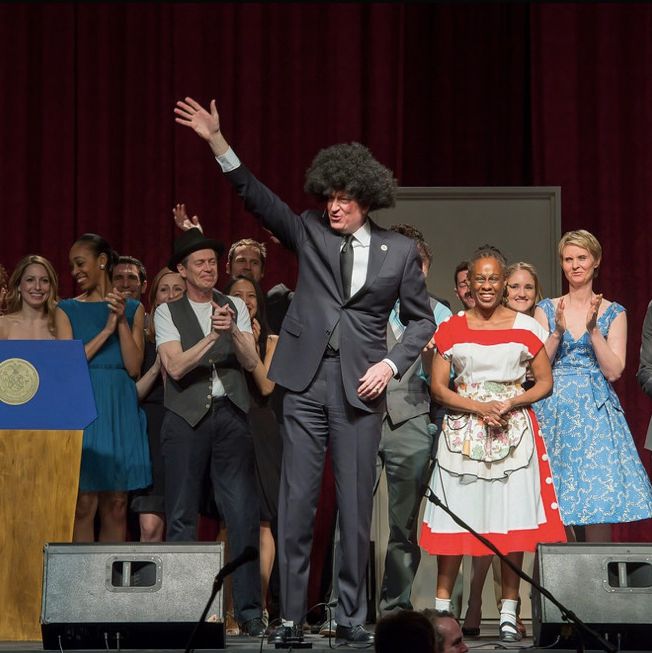 At last night's Inner Circle variety show — the City Hall press core's annual mayoral roast, the first of which happened in 1923 — Mayor Bill de Blasio kept his rebuttal progressive. Although the event is filled with journalists, coverage is generally not allowed. Luckily, we ran into a friend who needed a date. "This might be the best use of politicians and reporters," she said, inviting us to sit down at her table at the New York Hilton in Midtown. The crowd was newsroom chic — black tie gowns, ruffled blue tuxedo tops, off-kilter bowties, and dandruffy shoulders — as if a deadline is always more important than a bath.
In years past, Michael Bloomberg reportedly rehearsed the mayor's rebuttal for months, hired Broadway performers, and staged elaborate productions, but de Blasio kept it simple. He called in a few famous friends — Steve Buscemi, Cynthia Nixon, Al Sharpton — and ran a couple straightforward SNL-style skits. (QuestLove, Chris Rock, and Rosie Perez also appeared in pre-recorded videos.)
The dancers in the opening number were outfitted in black workout gear and sneakers, and they sang that they "took the train from Brooklyn." Props were made of cardboard. As promised last week, de Blasio and Buscemi then took the stage in matching tracksuits and paired a ventriloquist act with Rocky's "Eye of the Tiger," complete with high-fiving jazz hands.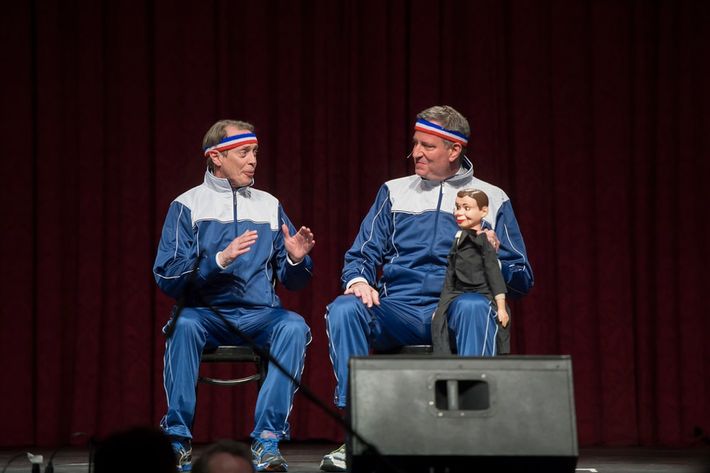 "It needed to be a big switch from the Bloomberg years where he spent a lot and a lot of money, and hired lots of actors to come in after their Broadway shows," said Daniel Goldstein, who directed de Blasio's rebuttal. "We were doing this no-frills thing so we wanted to make that clear right from the beginning."
The mayor poked fun at the troubles of his first few months in office — snow removal, school closings, and limited budgets. The jokes were written by a team of L.A. comedy writers, and the humor was more Academy Awards than corny dad jokes. In one skit, de Blasio joked about hiring Buscemi's gangster Boardwalk Empire character, Nucky Thompson, to oversee snow removal. A "Celebrity Jeopardy" skit starred de Blasio's press secretary, Phil Walzak, the mayor, and a shockingly gaunt Reverand Al Sharpton. (Answer: "39 heading to the teens by tomorrow." Sharpton: "What is the mayor's approval rating?" Walzak: "Wrong." De Blasio: "What Carmen Farina would call a beautiful day?"  Walzak: "Correct.")
But the skit that raised the most audience eyebrows involved Chirlane McCray and Cynthia Nixon as Alice and Trixie of The Honeymooners, chatting about days experimenting together sexually in their youth. De Blasio also took the opportunity to jab back at the press for asking silly questions about Dante's hair.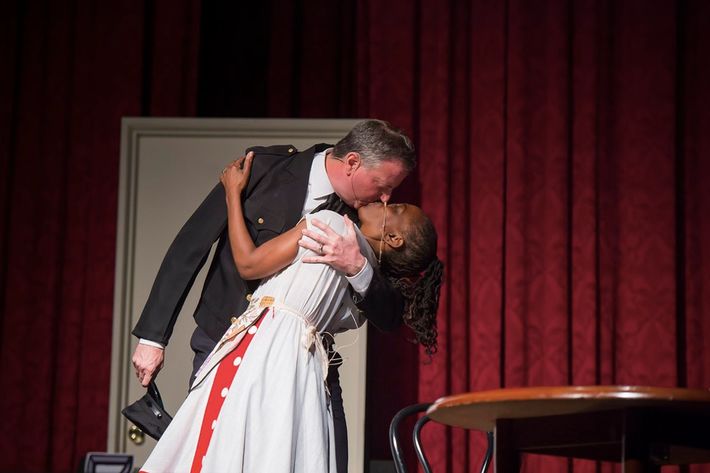 The show stealer, however, was actress Julie Halston's message from an disgruntled Upper East Side doyenne who advocated for a moat to insulate the neighborhood from the 95.5 percent and the return of John Lindsay. (Home-video footage of some spectacular head-bobbing dance moves from the de Blasio-McCray wedding came in a close second.)
The mayor's rebuttal followed a two-act performance from the Inner Circle, rag-tag crew of the city's most talented political correspondents, who take the night off to parody city officials with a brand of bawdy humor that is equal parts Monty Python, Daily Show, and summer camp pageant.
At $750-a-plate, the charity dinner's prices recall the era of Mayor Dinkins, who was relieved to be invited as a guest. "You find out what the reporters really think," Dinkins said. (In years past he said he's crashed as Bloomberg's plus-one.)
"One night I came on a horse, a real, live horse, and later that night I ended up in New York hospital. I had diverticulitis. So, I'm just lucky I didn't fall off the damn horse," he told Daily Intelligencer.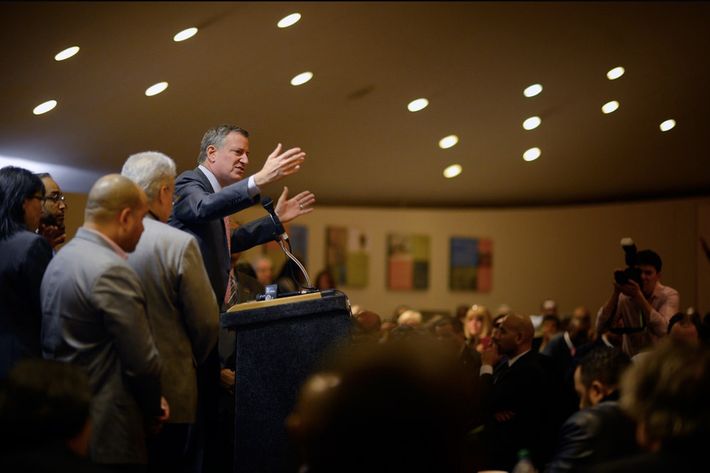 The theme this year was Robin Hood, playing upon de Blasio's proposed plans to tax the rich. The show followed the mayor through Chirlane Forest as he went on an epic search — including a visit with a Darth Vader-costumed Governor Cuomo — to find necessary funds.
Backed up by a band of Broadway musicians who have played this show since the mid-'80s, the excellent musical numbers included "A Tale of Two Cities" set to Lorde's "Royals." ("And baby he'll rule, he'll rule, he'll rule, with a mandate fantasy.") Prince's "1999" starred union leaders and became "1199." ("Contracts over, that's out of line. Tonight we are the party of 1199.") And, in a nod to Bloomberg, Billy Joel's "Only the Good Die Young," became "Only the Rich Have Fun." ("The Governor's roadblocks won't go away, they never told you the price that you pay, for things that you can't get done … ")
"We were excited because we finally had someone new," said head writer Larry Sutton, formerly of the Daily News, and now OK Magazine. "It's twelve years of Bloomberg and there's only so many rich jokes, so many short jokes that you can do, and you run out of material. So, we got a guy who's poor and tall … For us, he's been a godsend."
Here are the highlights: