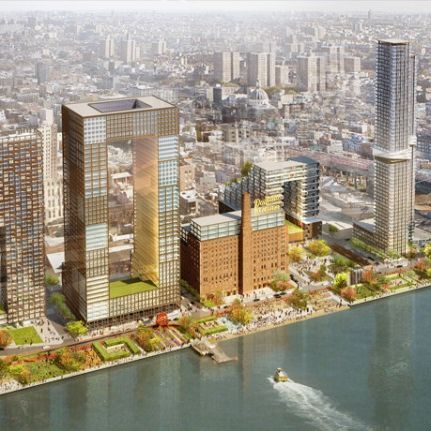 SHoP Architects' rendering of the development.
Photo: Rendering courtesy of SHoP Architects.
The De Blasio administration announced on Monday that it's reached a deal with Two Trees Management to move forward with the redevelopment of the Domino Sugar refinery on the Brooklyn waterfront. The plan hit a snag last month due to the mayor's effort to build or preserve 200,00 units of affordable housing in the next decade. The $1.5 billion project already included 660 affordable units out of 2,300 total, but under the agreement, another 40 units will be added, and more will be two- and three-bedroom apartments suitable for families.
In return, Two Trees can build taller towers. According to the New York Times, the firm will receive a zoning change allowing it to build a 55-story tower, which is about 20 stories higher than is currently allowed. Rents will also be higher for some of the affordable units.
The City Planning Commission is scheduled to vote on the proposal on Wednesday. If it passes, construction should start in December.