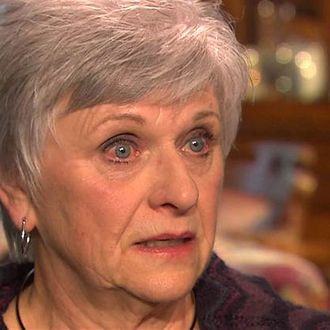 NBC's Today show has once again landed an exclusive interview related to the case of former Penn State assistant coach and convicted serial child molester Jerry Sandusky. Following the guilty verdict against Sandusky on 45 horrific counts of rape and molestation spanning more than a decade, he granted the morning show his first jailhouse interview, in which he blamed "suggestive questioning" of victims for the conviction.
This time, his wife, Dottie, tells Matt Lauer that the victims "were manipulated, and they saw money." Facilitating both appearances — and conducting the Jerry Sandusky interview himself for the network — was the conservative talk-radio host turned aspiring documentarian John Ziegler, the man behind Media Malpractice: How Obama Got Elected and Palin Was Targeted and Blocking the Path to 9/11, which focuses on the Clintons and also premiered on Today.
Ziegler runs FramingPaterno.com, a site "dedicated to compiling and analyzing the evidence that an out-of-control news media created a false narrative in the Jerry Sandusky scandal, which effectively framed Joe Paterno for crimes he obviously didn't commit." In a 25-minute teaser (!) for the Dottie interview on Today, filmed in Sandusky's basement, where some of the abuses took place, Ziegler begins by assuring, "Framing is figurative, not literal — I'm not a conspiracy theorist." One look at his website and it's clear why he's sensitive about the label.
His denial, though, is nothing compared to Dottie Sandusky's. "I definitely believe him," she says of her husband, with Ziegler at her side. "I believe he showered with kids. That's the generation that Jerry grew up in." She goes on to say, "I'm not a weak spouse … they call me 'Sarge' because Jerry said I kept everybody in line."
"I will take you downstairs and let you see the basement," she tells Lauer. "It is not a dungeon. It is not what those kids said. You can scream, and you can hear it up to the second floor." She never heard the screams of a victim, she says, "because he didn't scream."
Although neither Sandusky nor Ziegler provide any new evidence to undermine the court's findings, NBC continues to offer them airtime to spread their delusions. "Jerry Sandusky already had his day in court," Ziegler said last year to Lauer. "I'm trying to get Joe Paterno, effectively his day in court … I have no doubt that Jerry Sandusky was guilty of many of things, if not all the things, that he was accused of, but I do believe there were due process problems with the trial."
In his own interview with Sandusky, the coach admitted, "I may have tested boundaries." Now, Ziegler says, "that's the worst that Jerry Sandusky did in my opinion." Lauer pushes back some — "People will think that this is insane," Ziegler admits — but his presence alone elevates their claims.
Ziegeler's website includes a reader poll asking, "Which Media Entity Has Done the Worst Job Covering the Sandusky Scandal?" including ESPN, CNN, and the New York Times. NBC is not an option.