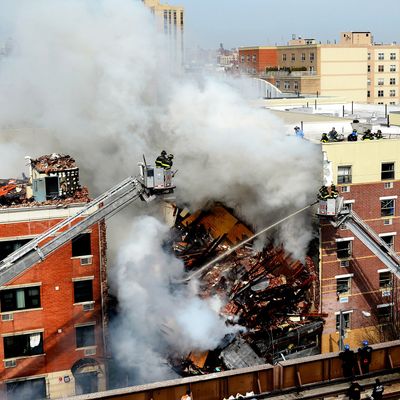 Photo: Rob Bennett/Office of Mayor of New York
The death toll in the East Harlem explosion that leveled two buildings on Wednesday has risen to seven, with eight people still unaccounted for. Three of those killed have been identified: 44-year-old Griselde Camacho, 67-year-old Carmen Tanco, and 22-year-old Rosaura Hernandez-Barrios. NBC New York reports that 74 people were injured in the blast. Most are expected to survive, though at least two — a 15-year-old boy and an older woman — remain in critical condition. Hundreds of firefighters using heavy equipment worked overnight to sort through the wreckage at 1644 and 1646 Park Avenue. The search and cleanup effort will continue into Thursday, officials said.
The cause of the gas leak that set off the explosion is still unclear. The National Transportation Safety Board has been brought in to help investigate the matter. The New York Times reports that investigators are looking into whether a water-main break that caused a sinkhole last night might have occurred before the explosion "and if so, whether a gush of water may have led to the rupturing of the gas line" that set off the disaster. 
Several people had reported smelling gas in and around the building prior to the disaster, and it worsened on Tuesday night and Wednesday morning. Con Ed had been called to the scene, but the workers arrived minutes after the explosion occurred. As was reported yesterday, in 2008, one of the buildings was found to have cracks that were "hazardous for the safety of the structure." The issue does not appear to have been fixed. Con Ed was also called to on of the buildings in May of last year because a resident smelled gas. A small leak in the pipes was repaired.