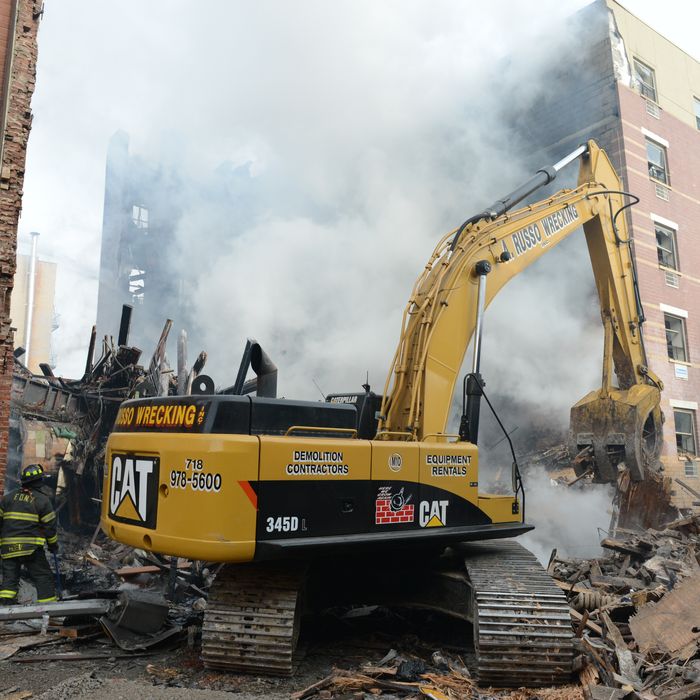 Workers continue to search the site on March 13, 2014.
Photo: Pool/2014 Getty Images
On Thursday, the death toll rose to eight in the East Harlem explosion that brought down two buildings. Police identified six of those killed in Wednesday's blast: 45-year-old Griselde Camacho, 67-year-old Carmen Tanco, 43-year-old Andreas Panagopoulos, 22-year-old Rosaura Hernandez, 44-year-old George Ameado, and 22-year-old Alexis Salas. Mexican officials said 43-year-old Rosaura Barrios Vazquez was also among the dead. More than 60 people were injured and at least five people are still unaccounted for. Rescue workers pulled the eighth, unidentified person from the rubble late Thursday.
The blast rocked Manhattan just one day after the Center for an Urban Future, a New York–based think tank, published a report on New York's aging infrastructure. The report estimates that $47.3 billion must be spent over the next five years to prevent problems that "could wreak havoc on the city's economy and quality of life" if left unaddressed.
"Repairing and replacing aging infrastructure is not glamorous, but it's critical," said Adam Forman, author of the report.
The Associated Press reports that the two buildings brought down by the blast were served by a 127-year-old gas main. According to Forman, more than 1,000 miles of New York City water mains are more than a century old, and there have been more than 400 water-main breaks annually in recent years. Investigators are still determining whether such a break might have played a role in Wednesday's explosion.
"I can't imagine how we can have pipes underground in New York that were put in there in the 1800s," said U.S. Representative Charles Rangel, who represents Harlem. "We talk about infrastructure, but the whole damn city is falling apart."