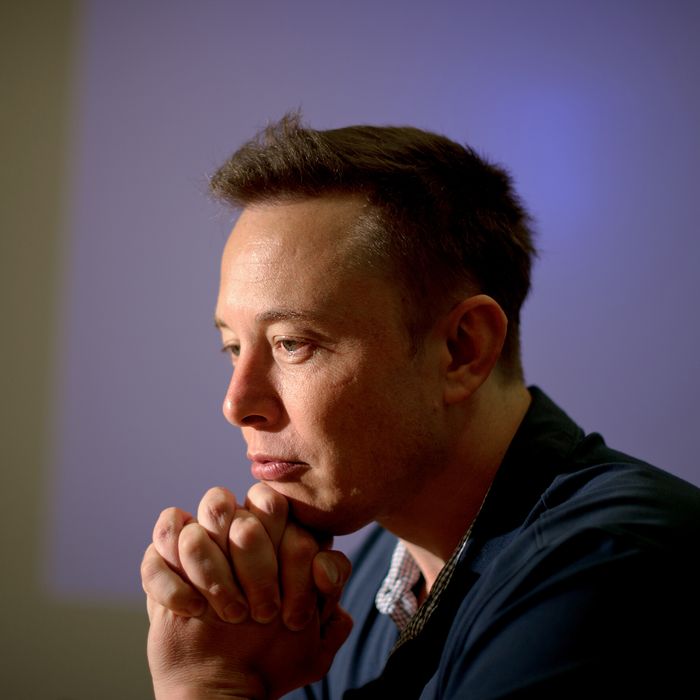 When people fawn over Tesla founder Elon Musk, they talk about his futuristic businesses, prolific mind, and obscene wealth. What they don't talk about are his enemies. But like many other Silicon Valley titans, Musk is rarely without a nemesis. And if he ever is, he'll quickly start beef with a new one.
The latest of Musk's antagonists is Chris Christie, who allowed New Jersey's Motor Vehicle Commission to enact a regulation last week that denies Tesla the right to sell its cars directly to consumers. The commission says it's a matter of protecting consumers. Musk says, "If you believe this, Gov. Christie has a bridge closure he wants to sell you! Unless they are referring to the mafia version of 'protection', this is obviously untrue."
Bringing up the George Washington Bridge scandal and dropping a mafia reference is classic Musk. For a billionaire playboy, he's got paper-thin skin and rarely hesitates to publicly smack-talk whoever happens to be annoying him at any given moment. Here are some of his greatest beefs from the past five years:
2009
Musk vs. Martin Eberhard: Before Musk was Tesla's founder, Eberhard was Tesla's founder. In 2009, the latter sued the former over that issue. Eberhard accused Musk and Tesla of breach of contract and slander. He also said Musk was lying about founding the company. Musk fired back, painting Eberhard as a doofus who left nothing but a mess during his tenure at Tesla. Within a few months, the two parties reached a settlement. 
2011
Musk vs. Top Gear: Musk accused the BBC show of libel and "malicious falsehood" after an episode showing Roadsters running out of juice and having brake issues. Problem was, Musk said, the tests were "completely phony" — and he described the show as being "about as authentic as a Milli Vanilli concert." Top Gear denied it and a judge eventually agreed, tossing the case out.
Musk vs. BYD: Asked in an interview about the competition posed by the electric car company backed by Warren Buffet, Musk just laughed and said, "Have you seen their car?"
2013
Musk vs. New York Times: After Times writer John Broder took a Tesla Model S on the test drive from hell, Musk channeled his inner angry blogger and refuted the scathing review with charts, maps, and an assertion that, "When the facts didn't suit his opinion, he simply changed the facts." Broder defended his piece, Tesla stock price dropped and everyone came out looking like petulant seventh graders.
Musk vs. Sarah Palin: After the former reality star criticized Tesla, calling the company a "loser," Musk responded by saying he was "deeply wounded." The sarcasm was so thick even Todd could detect it.
Musk vs. Jeff Bezos: This battle of the billionaires was fought over a dormant NASA space pad at the Kennedy Space Center. Musk wanted it for SpaceX, Bezos wanted it for Blue Origin, and they each had different ideas on how to run it. What could have been a simple competition for infrastructure turned into a full-on beef when Musk said the odds of Blue Origin launching a suborbital spacecraft in the next five years were lower than "discovering unicorns dancing in the flame duct." Ouch.
Musk vs. Detroit: How does Musk feel about the hydrogen fuel-cell technology pushed by Ford, Chevy, and Toyota? He thinks it's "bullshit." A few months later, Toyota exec Bob Carter responded, saying, "I don't really care what Elon [thinks]." 
Musk vs. George Clooney: After Clooney complained to Esquire about being "stuck on the side of the f—ing road" in his early model Tesla, Musk snapped back on Twitter: "In other news, George Clooney reports that his iPhone 1 had a bug back in '07." They will not be sharing tips on snagging young tail.
Musk vs. National Highway Traffic Safety Administration:  NHTSA head David Strickland told Congress that he often has to deal with an amped-up Musk who thinks the agency is out to destroy his business model. "I am trying to do this to actually keep people safer," Strickland said.
2014
Musk vs. Various States: Arizona, Texas, and now New Jersey have banned Tesla stores by passing laws requiring third-party vehicle sales. Ohio and New York might be next. The surprisingly powerful car-dealership lobby is behind these efforts, and Musk doesn't think very highly of it. At an annual Tesla meeting last year, he called their fight to keep Tesla from selling its cars a "perversion of democracy."