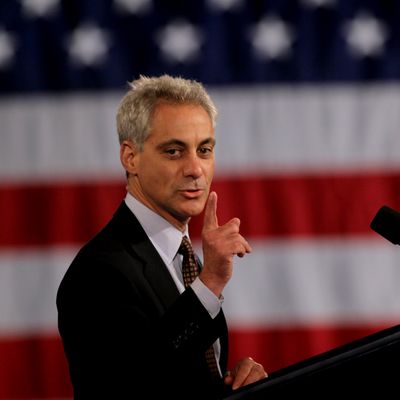 I know it was you. You broke my heart.
Photo: Scott Olson/Getty Images
When the Obama administration was formulating the Affordable Care Act, policy advisers wanted to include medical malpractice reform. President Obama had advocated for it in a 2006 article, and advisers expected to do it. Then one of them had a talk with chief of staff Rahm Emanuel, who comes across in this scene as every inch of his cynical, profane caricature:
"I'm also working on the medical malpractice proposal I told you about," I began.

He immediately cut me off: "Shut the f— up! We are not doing malpractice. Period. Every time the AMA comes in here, they don't talk about malpractice." Their first, second and third priority, he said, was the formula used by Medicare to determine doctors' pay. "We don't need to do malpractice for the doctors, and I am not alienating the president's base for nothing," he barked. "Stop it."
Nice guy, huh? It's also notable because the source for this anecdote is Emanuel's brother.