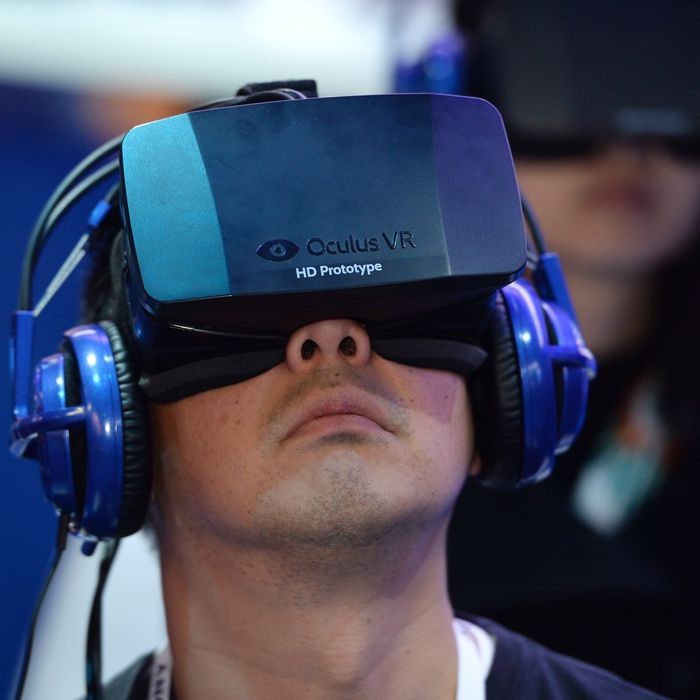 An attendee wears an Oculus Rift HD virtual reality head-mounted display at he plays EVE: Valkyrie, a multiplayer virtual reality dogfighting shooter game, at the Intel booth at the 2014 International CES, January 9, 2014 in Las Vegas, Nevada.
Photo: Robyn Beck/AFP/Getty Images
Facebook announced today that it has agreed to buy Oculus VR, a maker of virtual-reality gaming headsets, for $2 billion.
It's not exactly clear what Facebook wants with a virtual-reality company whose focus has been solely on games. But it's proven it's willing to shell out billions of dollars to acquire companies it thinks have a hold on the future, including WhatsApp and Instagram. Oculus, which is based in Irvine, California, raised money on Kickstarter and through traditional venture capital firms in order to build its headset technology, which the Times recently wrote "creates the sensation that you have teleported into an alternate universe."
In a Facebook post announcing the deal, CEO Mark Zuckerberg wrote that in addition to building games for Oculus, Facebook would also use Oculus's technology to create more virtual-reality experiences for its users. "Imagine enjoying a court side seat at a game, studying in a classroom of students and teachers all over the world or consulting with a doctor face-to-face — just by putting on goggles in your home," Zuckerberg wrote.
Zuckerberg didn't say exactly how Oculus would integrate with the Facebook experience, but perhaps that's a good thing. Being bombarded by your friends' engagement photos in lifelike 3-D isn't the most enticing proposition.