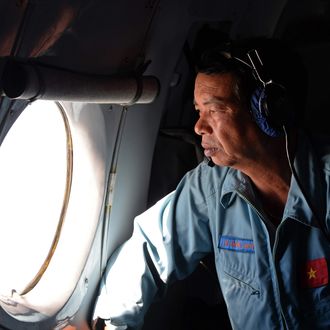 It's been nearly three days since Malaysia Airlines Flight MH370 lost contact with air-traffic controllers and disappeared while flying from Kuala Lampur to Beijing. With the help of dozens of ships and aircraft sent by Malaysia, Thailand, Australia, Singapore, Indonesia, China, and the United States, Vietnamese authorities are searching the waters below the flight's path for the plane, which was carrying 239 people. On Sunday, a Vietnamese aircraft saw what appeared to be one of MH370's doors in the same area where a large oil slick was located on Saturday. However, the object turned out to be a piece of moss-covered trash, and subsequent tests showed that the oil in the water did not match that of the plane.
On Monday, the BBC reported that China has demanded that the Malaysian authorities "step up" their search for the aircraft, whose passengers were mostly Chinese. However, finding the wreckage will likely prove difficult, if not impossible. An unnamed "senior source" involved in investigating the situation told Reuters, "The fact that we are unable to find any debris so far appears to indicate that the aircraft is likely to have disintegrated at around 35,000 feet." The Reuters source explained that, while a midair breakup of the plane could indicate an explosion, such as that from a bomb, it could also have been due to a mechanical problem.
Meanwhile, speculation about the two passengers traveling on the flight with stolen passports continues. On Saturday, two men — an Austrian and an Italian — whose names appeared on MH370's manifest told the media that they were not on board the aircraft, and that their passports had recently been stolen. The New York Times reports that the men who used those passports to book the flight "bought one-way tickets issued last week at the same travel agency in a shopping mall in the Thailand beach resort of Pattaya, according to electronic booking records." Records also indicate that the men were scheduled to travel on to separate European cities from Beijing.
Azharuddin Abdul Rahman, the director general of Malaysia's Department of Civil Aviation, told reporters that investigators were examining video footage of the men with the stolen passports, whose presence on the flight has raised concerns about the possibility of terrorism. On Monday, the Malaysian police said that they had identified one of the stolen passport users, who is believed to be "non-Malaysian." They did not offer further information about his identity. 
"It is clearly of great concern that any passenger was able to board an international flight using a stolen passport listed in Interpol's databases," said Interpol's secretary general, Ronald K. Noble, though he added that it was "too soon to speculate" as to a connection between the security breach and the missing plane.
This post has been updated throughout.