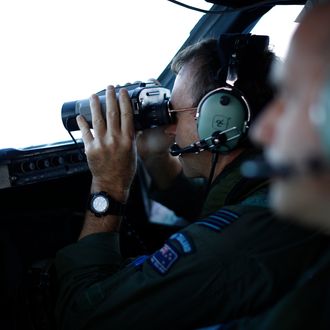 Photo: Pool/2014 Getty Images
It's been over three weeks since Malaysia Airlines Flight 370 went down somewhere in the southern Indian Ocean and investigators have yet to locate any wreckage from the aircraft. On Saturday, Chinese and Australian ships picked up a few white, red, and orange "objects in the ocean" that had been spotted earlier by a Chinese plane. However, according to the Associated Press, they were not "confirmed to be related" to the missing Boeing 777, the exterior of which was red, white, blue, and gray.
On Sunday, Australia, which is heading up the international search effort taking place in the water roughly 1,150 miles west of Perth, prepared a warship equipped with a U.S. Navy black-box detector and an unmanned underwater vehicle, as well as other sonar detection equipment, to be sent to the area. But it will take several days to get there, and searchers are now worried that the acoustic beacon attached to Flight 370's data and cockpit voice recorders will run out of batteries before they get close enough to detect them. (The battery has a life of about 30 days.) If that happens, it could take "years" to find the aircraft, according to United States Navy officials.
Meanwhile, also on Sunday, dozens of relatives of some of the Chinese citizens who were aboard Flight 370 arrived in Kuala Lumpur to communicate with Chinese embassy officials there. The family members, many of whom have expressed deep frustration with Malaysia's handling of the aircraft's disappearance, are demanding a meeting with Malaysian government officials.