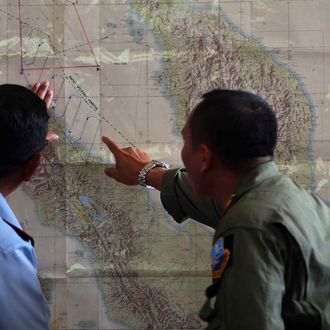 Indonesian officials plot their search for the missing plane.
Photo: ATAR/AFP/Getty Images
On Wednesday, in what appeared to be the most significant break in days of searching for Malaysian Airlines Flight 370, the Chinese government released satellite images of a "suspected crash area at sea." But Vietnamese officials later said the area had already been "searched thoroughly," and on Thursday, planes sent to reinspect the location failed to spot any debris. "There is nothing. We went there, there is nothing," said Azharuddin Abdul Rahman, Malaysia's civil aviation chief. China may have released the images by accident.
In still another twist, two sources tell The Wall Street Journal that U.S. investigators suspect the plane was in the air for about four hours, or up to 2,000 miles, after it reached its last confirmed location. Malaysian officials, however, deny that report as well. 
The new information is based on the engines' onboard monitoring system, which automatically transmits information about performance, altitude, and speed to manufacturer Rolls-Royce. The engine data is being analyzed to help determine the plane's flight path.
One person said U.S. counterterrorism officials are investigating the possibility that someone on board purposely diverted the plane, and that it was taken "with the intention of using it later for another purpose," meaning "deeply disturbing terrorist plot" is inching its way back to the top of the list of possible explanations.
But the head of Malaysia Airlines insisted that the final dispatch received from the plane was less than half an hour after takeoff. "That was the last transmission," said Ahmad Jauhari Yahya at a news conference. "It did not run beyond that." Malaysia's defense minister Hishammuddin Hussein also called the Journal report inaccurate. As for the false hope of answers in the Chinese satellite images, he said the Chinese government informed him, "The images were released by mistake and did not show any debris."
This post has been updated throughout.