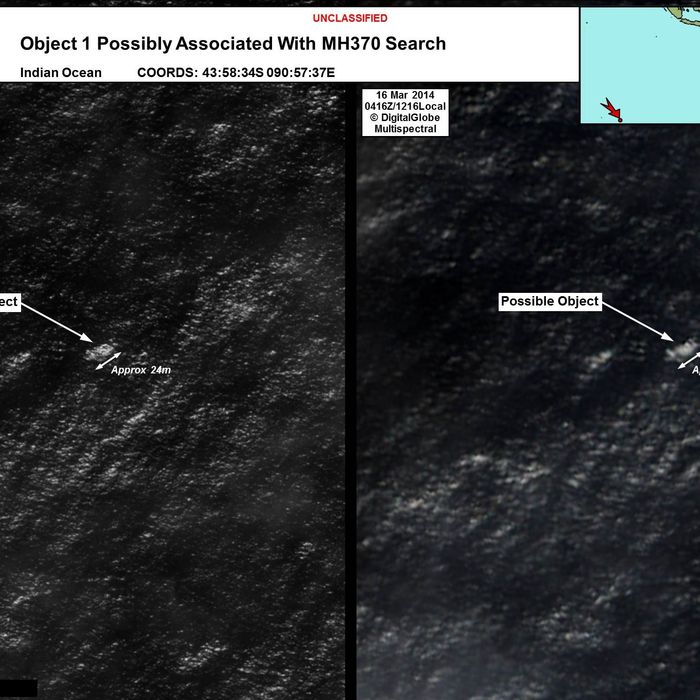 Satellite images of the first object.
Photo: Handout/2014 Australian Maritime Safety Authority
Australian satellites have spotted two objects possibly related to the missing Malaysia Airlines jet in the southern Indian Ocean. Prime Minister Tony Abbott called it "new and credible information," telling Parliament on Thursday that the Royal Australian Airforce was being sent in to investigate – though he stressed that it's not clear yet if they're parts from the plane. He warned, "we must keep in mind the task of locating these objects will be extremely difficult, and it may turn out that they are not related to the search."
John Young, emergency response general manager for the Australian Maritime Safety Authority, said at a press conference that the images are "indistinct," but of a "reasonable size." The largest is about 79 feet long, and they appear to be "bobbing up and down" on the surface of the water. "It is probably the best lead we have right now," he said. "But we need to get there, find them, see them, assess them to know whether it's really meaningful or not."
An Australian P-3 Orion aircraft arrived in the area, which is about 1,500 miles off the coast of Perth, at about 1:50 p.m. (10:50 p.m. ET), and three more aircraft are being sent to investigate. A U.S. Navy P-8A Poseidon, an aircraft used for surveillance and anti-submarine warfare, is also scanning the area. "Poor visibility has been reported, and this will hamper the search and recovery effort," Young said.
The Australian Maritime Safety Authority released annotated satellite images of the two objects dated March 16, four days before their release. "The imagery has been progressively captured by satellites passing over various areas," said Air Commodore John McGarry of the Royal Australian Air Force. "The task of analyzing the imagery is quite difficult. It requires drawing down frames and going through it frame-by-frame." He added that the info was passed on to the appropriate authorities "the moment this imagery was discovered."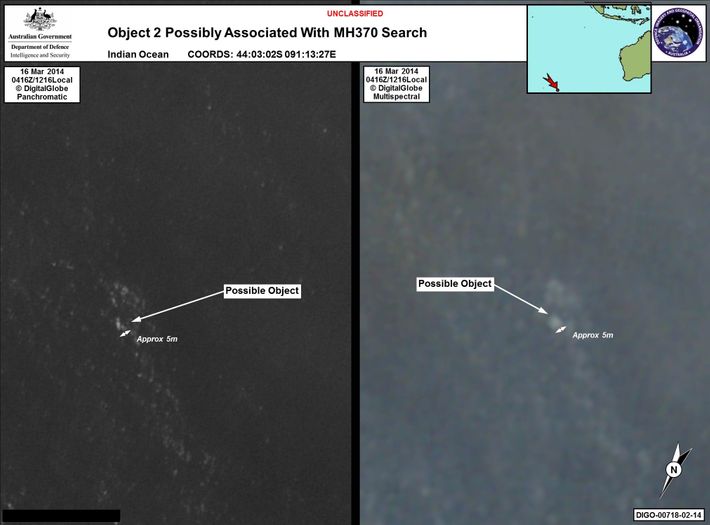 While this is the most promising lead in days, similar clues have failed to pan out. And in an update of a story posted earlier on Wednesday, the New York Times warns that at this point debris would be only a "modest step in locating the rest of the Boeing 777." While the objects in question are fairly large, two weeks after the crash it's likely that the wreckage has dispersed over a wide area, and key pieces may be deep in the ocean. Even if the plane has finally been found, the mystery of what happened to Flight 370 is far from over.
This post has been updated throughout.