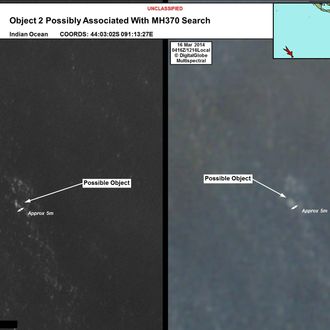 Photo: Handout/2014 Australian Maritime Safety Authority
Yet again, a lead appears to be fizzling in the search for Malaysia Airlines Flight 370, this time in the southern part of the Indian Ocean, following the potential spotting of debris by an Australian satellite on March 16. Thursday's search came up empty — "unable to locate debris — cloud and rain limited visibility," the Australian Maritime Safety Authority reported on Twitter — and officials are keeping everybody's hopes low, as if they weren't low enough after nearly two weeks of nothing. Air searchers in the area will now rely on human spotters instead of radar, the New York Times reports.
"Noting that we got no radar detections yesterday, we have replanned the search to be visual," said John Young, the general manager of the Australian Maritime Safety Authority's emergency response division. Friday's time at sea will consist of "aircraft flying relatively low, very highly skilled and trained observers looking out of the aircraft windows," he said.
But nobody is expecting much, at least publicly. The Times quoted an American investigator who said he was "highly skeptical" about the size of satellite images, which would likely be smaller if they were from a plane crash. "I've seen the pictures," he said. "Those pieces are pretty damned big."
"We must keep in mind the task of locating these objects will be extremely difficult and it may turn out that they are not related," said Australian Prime Minister Tony Abbott, dampening the mood even further.