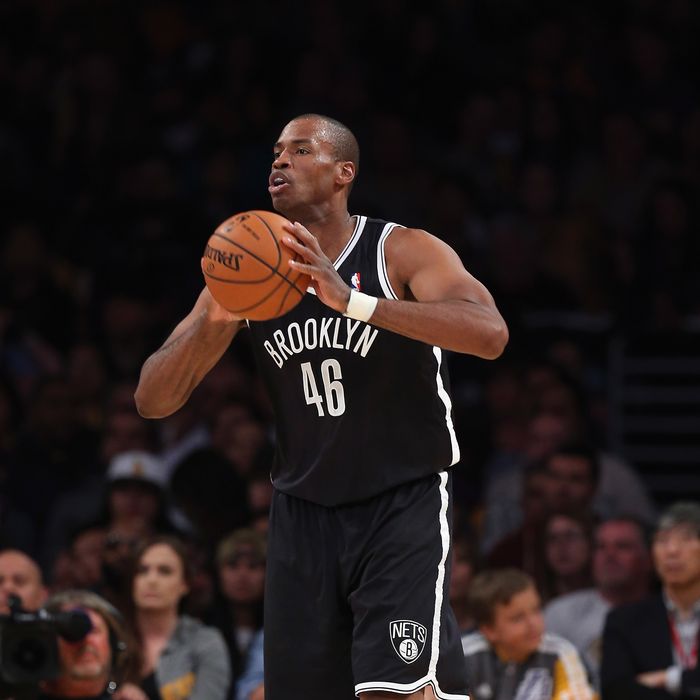 Photo: Jeff Gross/2014 Getty Images
Jason Collins, the first openly gay athlete to play in one of the country's four major professional sports leagues, took to the Barclays Center court last night for a few minutes. There was 2:41 left in the fourth quarter, and the Nets were leading the Bulls 92 to 75. The audience jumped to their feet, as the arena was taken over with cheers for the 7-foot center. Moments later he was called for a foul. The crowd continued to chant his name.
After all, fans know when the Nets talk of signing Collins for a second 10-day contract they need his size, defense, and power in the paint. But for members of the LGBT sports community, last night was about much more than rebounds.
"We wanted to come out to support Jason, and have a chance to witness history," former NFL player Wade Davis, who made news by talking about being closeted in the NFL, told Daily Intelligencer. "His visibility is his advocacy. For millions of young kids who are able to watch an LGBT athlete, that in itself is transformative, and for people to re-imagine what it means to be gay, in this world. I was someone who wished I would be able to see a gay athlete play."

The sold-out crowd included Bulls fans, Nets fans, depressed Knicks fans turned Nets fans, LGBT activists, and international tourists. And according to Davis' unscientific poll, numbers were up among the LBGT community.
"As a gay man, I'm always very much aware of how to recognize other gay men," Davis said. "I won't give up any of our secrets, but from an eye contact standpoint, I can definitely tell there is a higher proportion of gay men than I have ever experienced at an NBA game."
Anthony Nicodemo, head coach for the Saunders High School basketball team in Yonkers, who came out to his team last year, got tickets for Davis and friends.
"It's a big deal for the LGBT community. We always talk about sports as the last barrier, the last frontier. So being in New York, as diverse as it is, what's a better place than Brooklyn for him to come place his first home game?"

Former ESPN radio personality, Jared Max, who came out to his listeners in 2011, was sitting in the press box, taking it all in.
"I just feel like I belong here to see something come full circle," Max said. "When I came out, there were no out gay players, and now you see that this is actually going on in our major four sports. There used to be a big solid wall, and now, little by little, there are cracks. I think it's only a matter of time before the water starts flowing through."