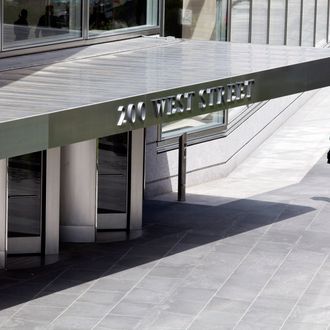 Photo: JB Reed/Bloomberg via Getty Images
Barely a week after it was revealed that the Twitter sensation (or one of them) behind @GSElevator does not work at Goldman Sachs, and never has, he's lost his "mid-six figures" book deal. "In light of information that has recently come to our attention since acquiring John Lefevre's Straight to Hell, Touchstone has decided to cancel its publication of this work," Simon & Schuster said in a statement.
"It's just a comical mystery to me," Lefevre, an ex-Citi banker, told Business Insider, unable — or unwilling — to grasp why an outsider maybe shouldn't be writing as a character whose comedic authority is based on being an insider.
"We always counted on my identity being revealed and we were confident that it would lend credibility and support to my story and vantage point," he added. "And my publisher had been vocal in supporting me after I was outed. So today it's quite surprising to see them walk away from a contractual obligation."
Just after the outing, the book's editor, Matthew Benjamin, was quoted in the New York Times defending his writer: "He's been pretty straight with us the entire time, so this is not a surprise," he said. But in addition to his identity, Gawker recently noted that several of the account's jokes appeared to be lifted from elsewhere, dubbing him plainly a "plagiarist."
"This doesn't change anything for me," insisted Lefevre. "In the immortal words of Carl Fox, 'money is only something you need if you don't die tomorrow.' Since I have been able to respond, my credibility has only increased."
Not shedding a tear either way, the bank itself: