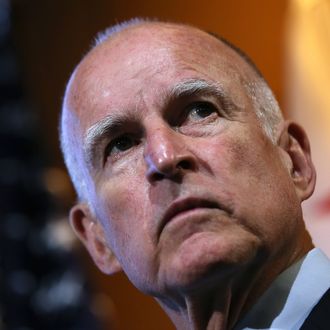 Photo: Justin Sullivan/2012 Getty Images
California Governor and total bummer Jerry Brown takes the threat stoners pose to the United States' success and safety very seriously. During Sunday's broadcast of Meet the Press, host David Gregory Brown asked if he felt it was time to legalize recreational marijuana in his state. After saying that he wanted to wait for Colorado and Washington "to show us how it's going to work," the governor added:
The problem with anything — a certain amount is OK, but there is a tendency to go to extremes. And all of a sudden if there's advertising and legitimacy, how many people can get stoned and still have a great state or a great nation? The world's pretty dangerous, very competitive. I think we need to stay alert, if not 24 hours a day, more than some of the potheads might be able to put together.
We'd suggest that Brown take advantage of California's current medical marijuana laws, which allow doctors to prescribe the drug for the treatment of anxiety, but that might just make him more paranoid.