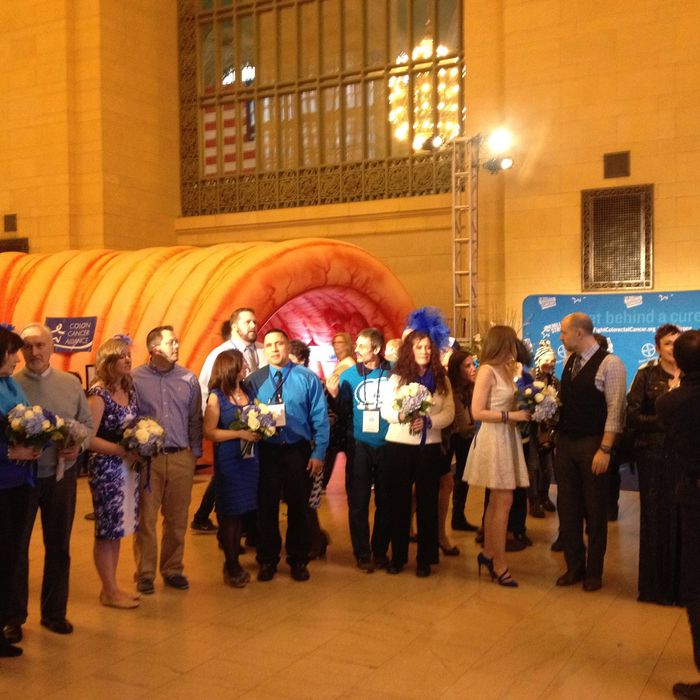 "Can I take a picture of your bum?"
Kobie Hamm, 22, stops marching, squats down, and shimmies his backside. A woman wearing a blue One Million Strong baseball cap aims her smartphone at Hamm's rear, where a pair of flesh-colored plastic butt cheeks hang down over his jeans.   
"Gotta make it fun," Hamm says, straightening up.
Hamm is one of the many volunteers, supporters, and survivors who came out for the New York City kickoff of the One Million Strong campaign, which is sponsored by Fight Colorectal Cancer, a nonprofit advocacy organization fighting colon and rectal cancer. Colorectal cancer is the second leading cause of cancer death for both men and women, and the group hopes to raise awareness and promote screenings. It's not the easiest subject to talk about, but an event with free yoga, a mid-morning dance party, a vow renewal ceremony, and a march to Times Square helps get the word out. And it's certainly easier to start a conversation about colonoscopies when there's a massive blow-up colon in the middle of Grand Central Station, complete with gigantic polyps.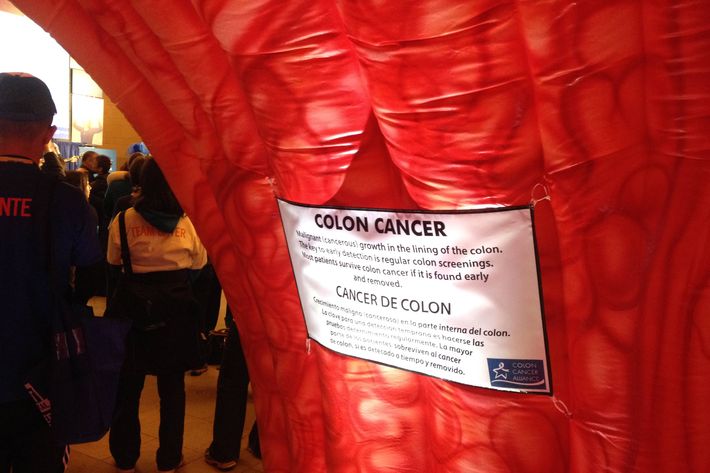 The group sets up in Vanderbilt Hall, in a corner of Grand Central, and everybody wears some version of Smurf blue, the official color of One Million Strong. There's even a mascot. Captain Colon moseys around, weighed down and slightly vision-impaired due to the piece of the digestive system he wears as a head. When Captain Colon does reveals himself, it ends up being a her — 13-year-old Hadley Wilson from Evansville, Indiana. Her mom is involved in the organization, so Hadley participates, too. The teen is usually the one who dresses up. "I used to be Polyp Girl," she explains, but that costume is currently on loan.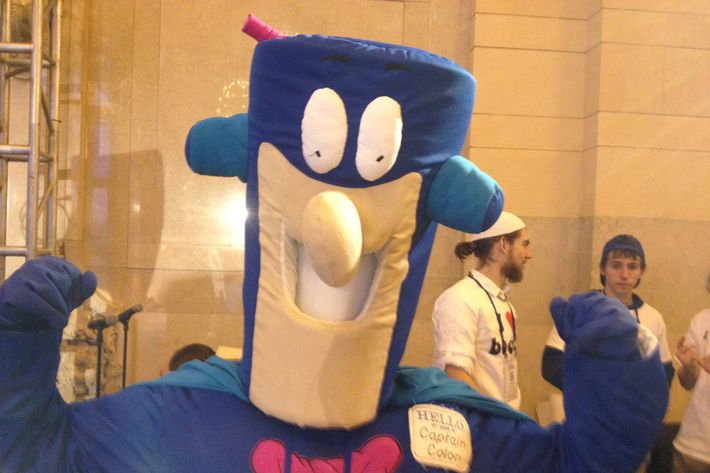 Though, as Hamm says, you've got to make it fun, the serious struggles of cancer sufferers, survivors, and their families are the cornerstone of the day. In the afternoon, couples fan out in a "semi-circle of love" as the M.C. calls it. Twenty colorectal cancer survivors have signed up to renew their vows with their spouses. Women hold bouquets and men pin corsages to everything from suit lapels to sweatshirts. Each pair is punctuated by something blue — a dress, a veil, or in the case of Rick Rausch, a ten-year survivor of rectal cancer, a dyed-blue mustache.
Country musician Craig Campbell, whose dad passed away from colon cancer when Campbell was 11, sings to the couples, the music banging off the walls of Grand Central. When he's done, the vow renewals begin, and the pairs shift closer to together. In the middle of one of the busiest places in New York, each couple steals a private moment — a husband and wife peck each other on the lips, another pair starts tearing up. You get the sense that each has already recommitted to each other — at a kitchen table, in a hospital room — and this is just a reminder of all those other, intimate times.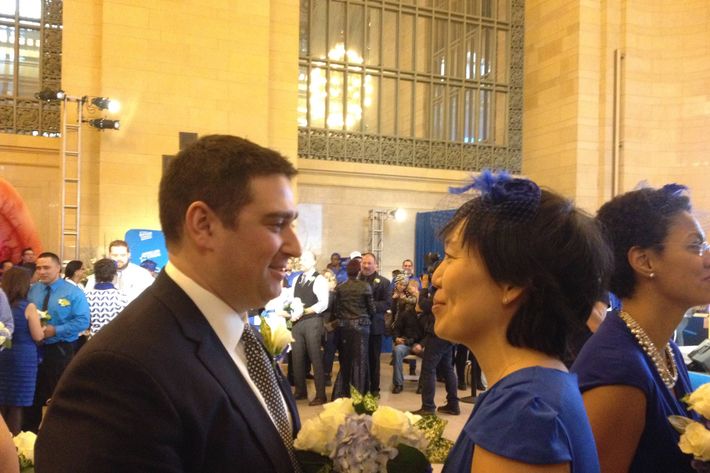 After the ceremony, Rausch stands next to his wife of twelve years, Krista. He says is simply grateful to be here — and that his daughter, who stands off to the side taking pictures, made him color his facial hair.
The survivors also want to pay it forward. Rose Hausmann, 50, from New Jersey, wears a floor-length blue sequin dress, blue eye shadow, and blue nail polish. She is surviving stage 4 colon cancer, and renewed her vows for the third time. Right now, she says, she feels empowered.
Empowerment is also Jesse Sansevere's goal. He started the I Heart Booty! Shop in 2011 and sells t-shirts and bracelets with the slogan to raise money for colorectal cancer. At 22, he has a cap and long-hair, and is basically on a mission to make colorectal awareness cool. He says he wants to reach out to young people, and get them active in the fight against the disease.
"Cause we all love booty," says Chris Meskill, Sansevere's business partner.
"It's universal," Sansevere agrees.
Among the other groups in attendance are physicians from the Jay Monahan Center for Gastrointestinal Health at Weill Cornell Medical College, who are promoting free screenings. They say it can be a tough sell, but one woman sitting at the desk says they tell people, "everybody poops."
Frank Schwall hangs out not far from the doctors, but has his own style of promoting colon cancer screening. "I tell my buddies, don't be a wimp," he says. The 49-year-old father of three from Westchester says with a mixture of relief, pride, and nervousness that he is a stage 3c cancer survivor, though he's not in the clear yet.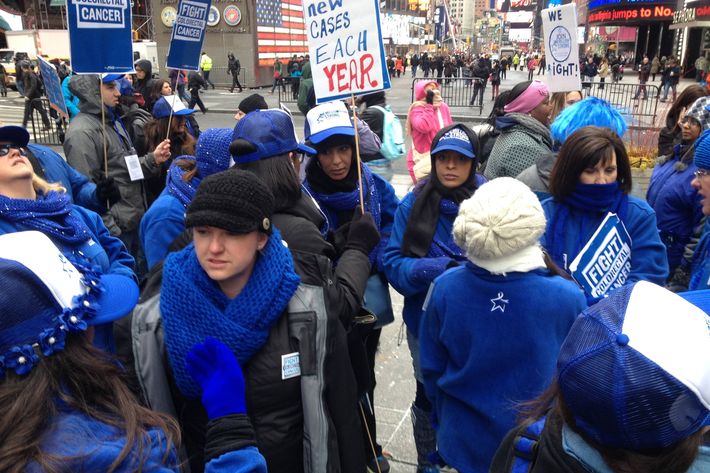 Schwall eventually makes his way into a single-file line, where attendees get ready to march to Times Square.  Hand warmers and signs are given out, and the group streams out the door. This is New York, so hoards of people with blue hair and blue tutus don't raise too many eyebrows. Captain Colon trots along, somehow navigating the Midtown sidewalks. Hamm is there too, shaking his plastic butt. He stops and takes out a calendar. Each month has a photo of a colorectal cancer survivor, showing his or her scars. Rausch and his mustache are photographed for November. Hamm had Rausch, as well as many of the other survivors, autograph their photos.
"I know them," he says. He puts the calendar carefully back inside his messenger bag, and boogies on.