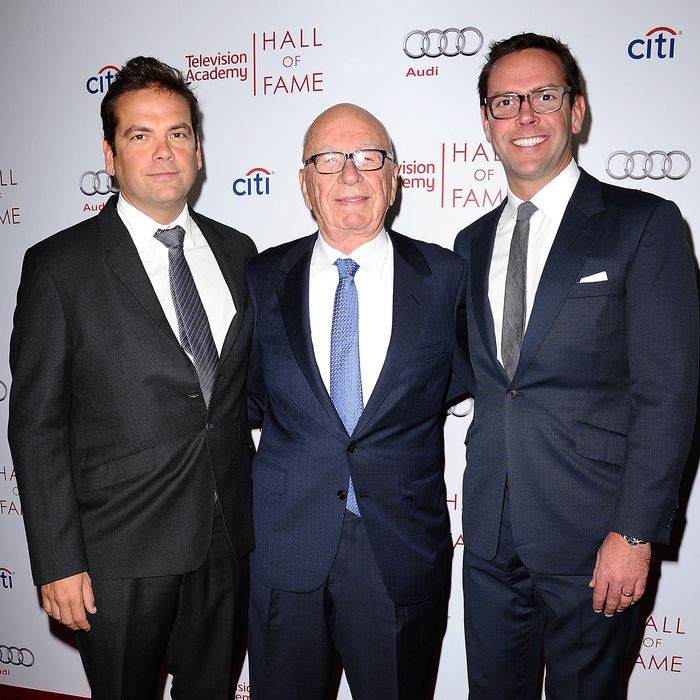 Family trust
Photo: Jason LaVeris/FilmMagic
For all his power and delight in office manipulation and familial competition, one player Rupert Murdoch could never seem to control was his son, Lachlan. Lachlan had gotten fed up with his father's dramas, walking away from the family business in 2005, after clashes with former News Corp president Peter Chernin and Fox News chief Roger Ailes. But yesterday, Rupert, who turned 83 on March 11, announced that his oldest son Lachlan, who is 42, was returning to the fold as a non-executive co-chairman of 21st Century Fox and News Corp. At the same time, Rupert elevated his embattled 41-year-old son James to the position of co-chief operating officer of 21st Century Fox, a title James now shares with Chase Carey. "The Lachlan news is a big deal because Rupert has wanted this for so long," a family intimate said. 
Ensconced in his native Australia with his own family, it appeared to many Murdoch-watchers that Lachlan was lost for good. He was intent on building his own media company, Illyria, which is based in a converted warehouse in Sydney and invests in television and radio assets such as the Australian broadcast channel Ten Network. "I'm not thinking about returning," he told a friend a couple of years ago. "I have my own business. Leaving News Corp is the best decision I've ever made apart from marrying my wife and having kids." It was a position he maintained publicly, too. "No," he flatly told the Australian Financial Review last year, when asked if he'd return. "I've moved on."
But to his father, the word no has never meant no, and about six months ago, according to a person close to Lachlan, his position began to soften. During a trip to Australia, Rupert floated the idea of Lachlan returning to the company as a co-chairman, this person said.  Lachlan liked that it was a position without day-to-day responsibilities, which would allow him to maintain his own media ventures at Illyria and split his time between Sydney and New York. The pressures that led him to put half a world between him and News Corp had, through time, dissipated. Peter Chernin was out of the company. Roger Ailes's designs on a more expansive corporate role had waned. And Lachlan's intense rivalry with James had cooled.
Lachlan, a lover of newspapers who'd run the New York Post before his News Corp exit, had always been close to his father, the über newspaper proprietor, and the past two years had brought them even closer. Lachlan helped Rupert navigate the London phone-hacking scandal and News Corp's corporate split into entertainment and publishing divisions. In December 2012, he was supportive following the death of Rupert's mother, the remarkable Dame Elisabeth Murdoch, at age 103. And he supported Rupert during his divorce from Wendi amidst rumors of her affair with Tony Blair.
At the 21st Century Fox board meeting in Los Angeles several weeks ago, Rupert and Lachlan formally discussed bringing him back to the company. Lachlan was warming to the notion, but his decision wasn't certain.  
On March 11, Lachlan and James flew to Los Angeles to be with Rupert on his 83rd birthday. As it happened, Rupert was being inducted that night into the Television Academy Hall of Fame at a gala held at the Beverly Wilshire Hotel. Fox is a "family company," Rupert told the attendees during his acceptance speech. After dinner, Lachlan, James, and Rupert retired to Rupert's Beverly Hills mansion for a celebratory nightcap. Notably absent was their sister Elisabeth.   
Then, on Monday, March 24, Rupert convened his board of directors for a secret conference call to make Lachlan's return official. True to form, Lachlan did not fly to New York for the occasion. He is in Sydney this week. No matter, Rupert was thrilled by the outcome. "Rupert has a lot of emotional momentum right now," a confidant told me. "I haven't seen him this energized about the future."
With these latest moves, Rupert has ensured that the future will belong to his sons, even if he is not in the picture. At one point, it would have be doubtful whether the sons would have been able to collaborate. Years ago, when Lachlan was first designated heir apparent, James crumpled up a newspaper article about the appointment and told an executive, "it's not fucking true!" But Lachlan and James have apparently put that behind them. Earlier this month, Lachlan and James bonded at an Allen & Company media retreat in Arizona. "They ate lunch together every day," a person close to the Murdochs said. "They're super close now," a colleague added. 
Rupert, perhaps sensitive to the past rivalry, is focused on making sure both James and Lachlan are perceived as equals in the new corporate hierarchy. After seeing press accounts yesterday that gave Lachlan top billing, he called an executive to make sure his views were clear. "It's a partnership," he said.