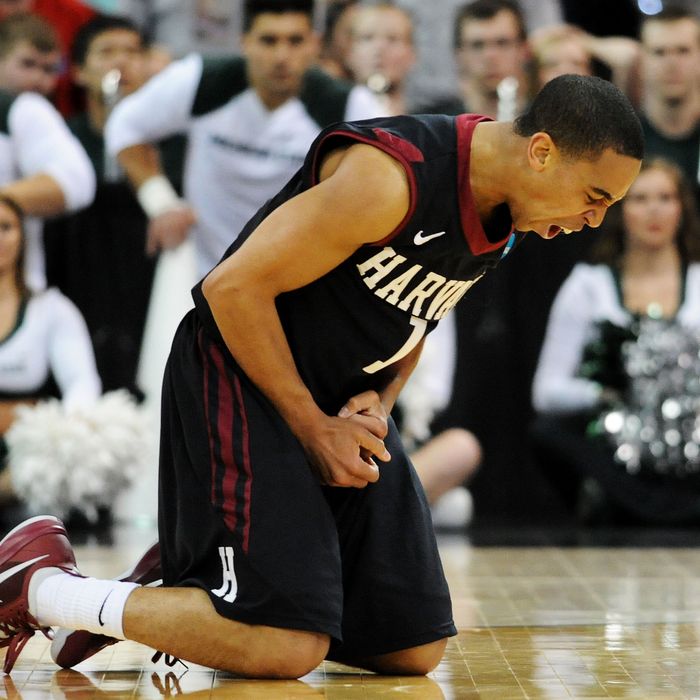 Photo: Steve Dykes/2014 Getty Images
When Seth Kisch and his friend — both 2004 Harvard alums — are asked about the Crimson's chances against the Michigan State Spartans in the second round of the NCAA tournament, they say they need to do the math.
"The probability at this point is 40 percent," Kisch jokes early in the first half. Kisch, and the rest of the Harvard Club watching the game, cautiously hope for a repeat of Thursday, when the twelve-seeded Crimson upset the five-seeded Cincinnati. A win tonight would be the school's first Sweet Sixteen. Only a few had the guts to pick them past the first round, but they're relishing Harvard's rare status of underdog. They also can't help bragging a little about how elite they're becoming.
The bar at the Harvard Club — rectangular and wooden, with two small flat screens perched high on the wall — starts getting crowded after tip-off. The game has decreased the average age of the club's Saturday night crowd by 40 years, says Andrew Decker, class of 1976. His daughter, who went to Duke, stands next to him. She is teaching them how to cheer, he says, trying not to rub it in too much.
"Did you go upstairs?" Decker's daughter asks. "It's depressing."
It is, actually. A flat-screen TV has been wheeled in on a table draped with a white ruffly cloth. About twenty people are sitting in leather chairs or at small tables politely and quietly watching the game. If you didn't know basketball was on, you might mistake it for a TED Talk.
"There'll be Jell-O shots later," one guy says. There will be no such thing.
The bar is lively, and some are a tough crowd. Apparently bracket selections are subjects best discussed off the record. Finding out Sweet Sixteen picks at the Harvard Club are occasionally like trading in state secrets. An anonymous source did admit to playing pickup with Obama at Harvard in the '90s. The President was kind of a ball hog, it seems.
Harvard is down twelve at halftime. Most seem resigned to a walloping, especially as Michigan State's lead balloons in the second. But just when people stop paying attention, the deficit creeps into single digits.
When Harvard cuts the lead to four, the club, finally, goes crazy.
"Did we just tie up or something?" someone asks. Harvard being Harvard, he is corrected.
Charles James, a 2009 grad, who played intramurals with former player Jeremy Lin, put Harvard in his Final Four. He is still skeptical they can pull through. "If that happens, I will eat my shirt."
Harvard does tie it up and hangs in there to take its first lead with 7:11 to go. The crowd jumps up, high-fiving and fist-pumping. They all press closer to the bar, as if being nearer to the TV's will make a difference.
"We led for twenty seconds," someone deadpans. "That was cool."
That really is about it. One shining moment, and then it's over. The Crimson kept it close and fought, but for Harvard, it was the end of their run. For me, it was also over; a club standard-bearer realized I lacked Harvard credentials and also had a notepad. In the end, everyone came up short.
One member, heading to another bar, brings me back inside the Club to see the final score pop up on the screen: MSU, 80. Harvard, 73.
The crowd doesn't seem exactly shocked, just disappointed. Harvard had enough fight to give them hope. "It's a start," Decker says. At the back of the bar, a slow clap starts.
James, his bracket busted, his team finished, leans against the wall. "It's what was expected," he says.