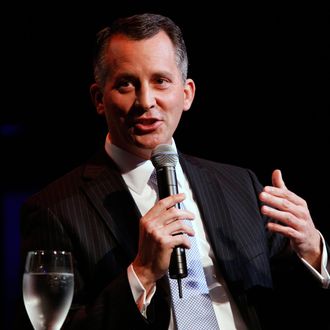 Jolly.
Photo: BRIAN BLANCO/Reuters/Corbis
Beyond the treat for headline writers — both Jolly and Sink lived up to their names last night — the special election in Florida's 13th congressional district provides the first real opportunity for both sides to speculate about midterm elections. Posturing is plentiful this morning, with fervently anti-Obamcare Republican David Jolly pulling off a two-point victory against well-known Democrat Alex Sink in a swing district. Conclusions are harder to come by. We've sorted through the noise below.
The Democratic spin, in a nutshell:
"I've never believed that special elections are a bellwether of anything," said Rep. Steve Israel of New York, who chairs the House Democrats' campaign operation. "You have to treat every district for what it is, not for what you want it to be."

"Alex put this district in play despite Republicans spending $5 million against her, and she came closer to victory in a historically Republican district than any Democrat has in decades," Democratic Congressional Campaign Committee Chairman Steve Israel said in a statement. "Democrats will fight for FL-13 in the midterm, when the electorate is far less heavily tilted toward Republicans."
The data points:
• The district is largely old and white, naturally leaning Republican
• Bill Clinton and Joe Biden both campaigned for Sink
• Turnout was just 39 percent, largely in absentee ballots, which tend to favor Republicans, as do special elections generally
The Republican spin, in a happier nutshell:
"The overall picture does send a message and it says, 'Be afraid. Be very afraid,'" said Jack Pitney, a former national GOP official and government professor at Claremont McKenna College in California. "This is one more piece of evidence that 2014 will be a very difficult year for Democrats."

"Tonight, one of Nancy Pelosi's most prized candidates was ultimately brought down because of her unwavering support for Obamacare, and that should be a loud warning for other Democrats running coast to coast," said Representative Greg Walden of Oregon, who is chairman of the National Republican Congressional Committee, referring to the House Democratic leader.
The data points:
• While they spent $5 million, Democrats spent $4 million themselves
• Jolly raised less money than Sink and faced a tough primary, but still came out ahead
• Jeb Bush and Rand Paul spoke out for Jolly
Whether or not it's a bellwether, "It's now likely impossible for Democrats to pick enough seats in November to even have a chance of regaining the House of Representatives," writes Ben Jacobs in The Daily Beast. Gaining 17 seats was always a long shot. But the fact that Obama won the 13th district twice made it one that was potentially up for grabs after the death of Bill Young, who held the seat for 40 years. The big question now is if Republicans can pick up six seats for control of the Senate in November.
But some historical perspective from the Washington Post's Chris Cillizza:
Remember that from March 2009 to May 2010, Democrats won three very competitive special elections in New York's 2oth and 23rd districts as well as Pennsylvania's 12th.  It said little about the massive wave – a 63 seat Republican gain – that would would sweep Democrats' out of the House majority in November 2010.
The pundits:
"[T]hese results in the swingiest district in the swing state of Florida are a clear sign that, unless something changes, Democrats are in big trouble this fall."  —Jacobs
"Whether or not what happened Tuesday in Florida is a bellwether of anything, it will unnerve Democrats and energize Republicans." —Cillizza

"The victory will embolden Republicans as they head into the midterm election and bolster their message — that the nation disapproves of the Affordable Care Act and Mr. Obama's leadership." —New York Times
"Democrats had a better-funded, well-known nominee who ran a strong campaign against a little-known, second- or third-tier Republican who ran an often wobbly race … Outside Republican groups — much more so than the under-funded Jolly campaign — hung the Affordable Care Act and President Obama on Sink. It worked." —Florida political analyst Adam C. Smith
"[T]he Florida contest may or may not be a bellwether. But it did lay bare the Democrats' 'fix Obamacare' dilemma." —Byron York