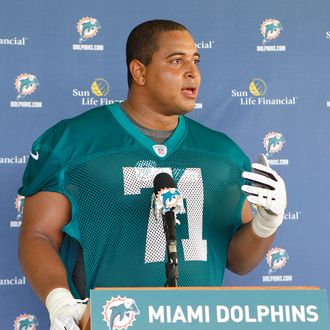 Jonathan Martin.
Photo: Joel Auerbach/2012 Getty Images
Former Miami Dolphins offensive tackle and Stanford alumnus Jonathan Martin has been traded to the San Francisco 49ers, where he'll rejoin his college coach Jim Harbaugh. The Dolphins received a conditional draft pick from the 49ers in return, and Martin must complete a physical fitness test to complete the deal. The announcement came on the first day of NFL free agency.
Martin originally left the Dolphins in October after accusing teammate Richie Incognito of bullying him. The NFL hired lawyer Ted Wells to investigate the claim, resulting in this gut-wrenching, 144-page report that found Incognito and two other players "engaged in a pattern of harassment" of Martin. "We feel that this move is in the best interests of all parties involved," said Dolphins general manager Dennis Hickey. "We wish Jonathan well." We're sure you do, Dennis.
After leaving the Dolphins, Martin underwent counseling, and recently he's been taking classes at Stanford. After the announcement he tweeted:
Richie Incognito was suspended for the last eight games of the season and has received treatment for "severe mental stress." He remains a free agent.