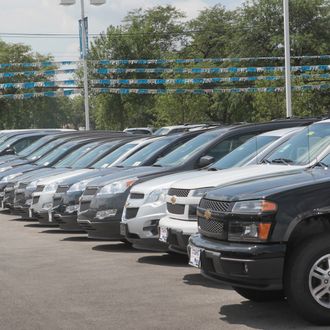 Photo: Scott Olson/2011 Getty Images
The U.S. Justice Department has begun an investigation into whether General Motors, the country's largest automaker, mishandled a safety problem linked to at least 31 accidents and thirteen deaths over the course of the past decade. While consumer complaints about faulty ignition switches in GM cars date back to at least 2004, the company only issued a recall last month – and for some reason, it only recalled 778,000 cars at first, then expanded that to 1.6 million two weeks later. House and Senate committees and the U.S. National Highway Traffic Safety Administration were already looking into GM's actions, and the Justice Department investigation could lead to criminal charges.
According to the New York Times, General Motors has admitted that it learned years ago that if the ignition switch in the Chevrolet Cobalt and several other models was bumped or weighed down by a heavy key chain, the engine and electrical system would shut off. And to make matters worse, when the car suddenly stopped, possibly while in traffic, the air bags would be disabled. A fix was proposed in 2005, but instead GM opted to tell its dealers to ask car owners to not keep so much stuff on their key chains.
As the investigation is still in its preliminary stages, it has not yet been decided whether the Justice Department will pursue a civil or criminal case. The NHTSA fine could be as much as $35 million, Bloomberg News reports, if GM is found to have neglected to issue a recall when it knew the cars were defective.
"It's high time for the Justice Department to conduct criminal investigations of automakers who conceal defects and people die," Clarence Ditlow, head of the Center for Auto Safety in Washington, told the Times. It's hard to argue with that.