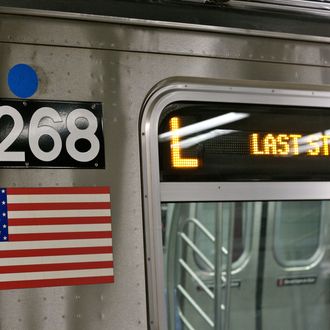 Photo: Marcin Wichary/Flickr
In addition to being the cleanest subway line, the L train is also the fastest-growing and arguably the most improved. According to new MTA data for 2013, "Ridership increased at every station on the line, including an 8.1 percent increase at the Bedford Av station. Weekday ridership has increased at Bedford Avenue by more than 50 percent since 2007." As a result, the trains are new and more frequent than ever, with another increase coming in June, and yet a certain subset of young people continue to gripe. 
"It's a line that likes to complain a lot on social media," says MTA spokesperson Adam Lisberg in today's New York Times. "It went from zero to hero in the last couple years," adds a rep for the Straphangers Campaign. "The L, I think, has become chic." According to the Times, "the reality has shifted, even if perception has been slow to catch up."
Yes, it can be crowded and weekend service changes are the worst, but it also has the convenient countdown clocks and all those stylish people, the same ones who overuse the internet to whine. "The website isthelrunning.com has attracted a small following," the Times reports, "though it has been dwarfed by another site with an unprintable name and an identical premise." That would be "Is the L Train Fucked?" and the answer, most of the time, is only existentially.