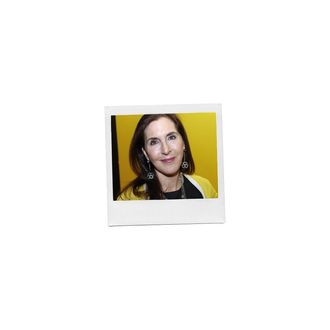 Name: Laurie Simmons
Age: 64
Neighborhood: Tribeca
Occupation: Artist, with a show of new work currently up at Salon 94. On April 7, she and her husband Carroll Dunham will be honored at the New York Academy's Tribeca Ball.
Who's your favorite New Yorker, living or dead, real or fictional?
Kitty Carlisle Hart. I wanted to be her. So chic and urbane.
What's the best meal you've eaten in New York?
I used to get Japanese fried chicken and tekkamaki every Friday night at a conveyor-belt sushi place called Genroku on Fifth Avenue around 36th Street. Then I would hit the ten-dollar sale rack at Macy's, where you could find a stunning range of designer things nobody else wanted. After that I would meet up with my boyfriend, who got off work at midnight. This was a long time ago.
In one sentence, what do you actually do all day in your job?
Walk back and forth between my refrigerator, my computer, and my camera.
What was your first job in New York?
I painted apartments with a specialty in hanging vintage floral wallpapers – an I Love Lucy-style glue mess. I also babysat for a Bedlington terrier.
What's the last thing you saw on Broadway?
I saw Nico Muhly's opera, Two Boys, at the Met, and Small Engine Repair, directed by Jo Bonney, at the Lucille Lortel. I realize neither of those are on Broadway, but they should have been.
Do you give money to panhandlers?
Yes. Continuously.
What's your drink?
Coffee and UltraClear (enjoyed separately).
How often do you prepare your own meals?
I am a binge-cooker. It's the less enjoyable version of being a binge eater.
What's your favorite medication?
Transcendental.
What is the best thing in or about your apartment?
My husband lives there.
What's the craziest thing you've ever seen on the subway?
A woman in a complete Tyrollean dirndl pinafore dress and apron got up and kicked a Japanese tourist really hard in the shins and said '"STOP staring!" (He wasn't.)
When was the last time you stayed out past 3 a.m.?
I had a habit when younger of exiting certain beaux's apartments in the early a.m. and taking a leisurely stroll home. When I remember that now I can only think, Wow! The city was really dangerous then!
Which do you prefer, the old Times Square or the new Times Square?
SO the old Times Square. I used to like going there and feeling anxious.
What do you think of Mayor de Blasio?
I think he and his family are a great addition to our New York political landscape — a "first family" that really looks and seems like the diverse, culturally rich city we love. I'll be interested to see how he and Ms. Chirlane McCray bring a new public focus on music, writing, and art that have too often been confined to the margins and outer boroughs of NYC.
What do you hate most about living in New York?
I love living in New York.
If you could banish one person from New York forever, who would it be?
That kind of changes daily from (fill-in-the-blank's) drug dealer to the woman who stole my cab this morning.
When's the last time you drove a car?
Last week. I love to drive, though I didn't really learn until I was 32. Cindy Sherman taught me in Syracuse where the roads were pretty empty because my then-boyfriend (current husband) told me that he would never marry someone who couldn't drive.
Finish this sentence: The NYPD _____.
Should make a calendar like the FDNY. (Or have they already?)
Times, Post, or Daily News?
All three if I have the time.
Where do you go to be alone?
I'm alone in the studio all the time. More interesting is where I go to be with people.
What makes someone a New Yorker?
A sharp tongue, a good sense of humor, and a pet they're obsessed with.