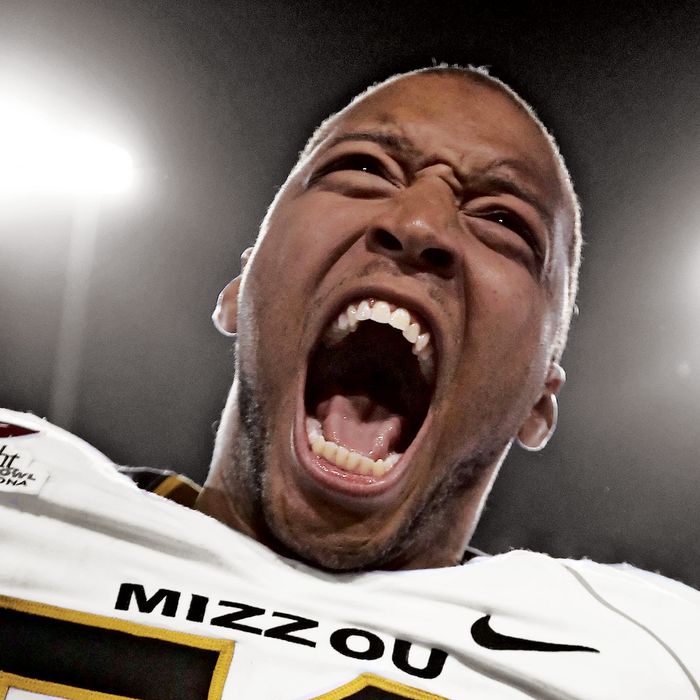 Photo: Christian Petersen/2010 Getty Images
When NBA player Jason Collins came out of the closet on the cover of Sports Illustrated last April, perpetually baffled local-radio wagger Mike Francesa couldn't figure out why this was news. "It means less than nothing to me that there is a gay player now out in the NBA," Francesa said. "I have the story here and I'm not compelled to run and talk about it or read it. I really don't care. I can't be any more honest. I don't care."
You heard a lot of this after Collins came out, from Rush Limbaugh ("Why does it have to be rammed down our throats?") to Francesa's old radio partner Chris "Mad Dog" Russo ("I do not care about this Jason Collins story, everyone tells me to discuss it. I could care less about someone's sexuality," he tweeted) to Falcons cornerback Asante Samuel ("Straight people are not announcing they're straight, so why everybody have to announce their sexuality or whatever?"). The protests, couched as something other than ­protests, had a hint of Stephen Colbert's hilarious faux claim that he "doesn't see race." ("I've evolved beyond that. I just pretend ­everybody's white, and it's all good.") After years of athletes forced into the professional-sports closet, now that one was out, the claim of the traditionalist sports-media Old Guard appeared to be: "Hey, it doesn't matter!"
It's obvious now just how much it does matter. Collins went unsigned for almost a full season, waiting until February for his opportunity to play as the first male athlete to come out of the closet in one of the four major professional sports (a mouthful of nomenclature that does a disservice to collegiate and women's athletes who have been out for years). But when he did finally step on the court, last month, he was embraced as the historic game-changer he was. He even wears jersey No. 98 in honor of Matthew Shepard, who was killed in 1998, and it was impossible not to be moved when he presented the jersey to Shepard's parents after a recent game.
But after the applause, Collins was just another guy picking up fouls and setting picks. And this was its own substantial victory: For all the anticipation for the first high-profile gay athlete, Collins's emergence was a lovely reminder that it is often the journeymen, doing relatively thankless work, whose less spectacular breakthroughs add up to enduring change. There is real value in Collins's just-another-guy, lunch-pail professionalism. There is even heroism in it. You found yourself cheering a guy who was simply rotating on defense. It was glorious.
At first, the former Missouri defensive end Michael Sam seemed like a slightly different case—Sam was the reigning SEC co–Defensive Player of the Year when he told the New York Times and ESPN that he was gay last month. And the announcement was particularly noteworthy not only because Sam's teammates at Missouri had known all season and hadn't cared one whit (thus belying the most commonly held argument against an athlete's coming out, that it's some sort of "distraction"), but also because Sam had done it right before entering the NFL combine, the precursor to the NFL draft in which young men are poked, prodded, and interrogated for their viability for the league. The courage was staggering—the moment in which his entire professional career was on the line, he tells the world who he is, so that it will someday be easier for those who come after him, even if it makes things harder, today, for him. Sam, too, was embraced.
All this matters. It matters so much. Which means it's time for the next step. It's time to make it really not matter at all.
On the first day it was available for purchase, the "Collins 98" Nets jersey rocketed to the No. 1 seller at the NBA's online store, passing LeBron James, Kobe Bryant, and Carmelo Anthony. To wear a Collins jersey is to show your support not just for a cause but for him: It is a tribute to his strength, to his devotion, to his honoring of Shepard's memory. The one thing it is not is a tribute to his skills as a backup center.
Collins's virtues on the court are often underrated—advanced analysts have convincingly argued that his teams have been consistently better when he's on the court. But let's not get carried away. His basketball career has been unspectacular (seriously, his job is mostly to foul people), and it's almost over (he's 35). Jason Collins is going to go down in history as the first openly gay NBA player. He is not going to go down in history as a particularly great one.
Sam was an outstanding college player. But put aside those cowardly (and wrong) anonymous team officials like the one quoted by Sports Illustrated who claimed a gay player would "chemically imbalance" an NFL locker room (in a story that strangely ignored the countless general managers and players who, with their names attached, voiced their loud support for Sam). It is still unlikely that Sam is going to be a great NFL player. This is not because he is not skilled, or because he lacks some inherent determination/moxie/eye of the tiger. It is because he is too small and short to play defensive end and too slow (relatively speaking, of course) to play linebacker and drop back into pass coverage. The SEC is a great league, but it is not the NFL: Sam was able to mask some physical limitations in the college game he simply won't be able to in the pros. Sam is not going to be a first-round pick at the draft next month, but it's not because of his brave announcement.
This does not diminish Sam's accomplishments, or his courage. But it's going to take more than a few fringe players to make the sports world a truly comfortable place for gay players—and more important, a comfortable place for young gay athletes to aspire to. If you wear a Michael Sam jersey, you are wearing it because he's an intelligent, fearless man who has changed the world of sports. But the true mark of sports' gay issue no longer "mattering" will be when a gay star doesn't need his sexuality to reach the top of the jersey-selling charts. That's to say: It's one kind of breakthrough to celebrate Collins's and Sam's coming out. It's another—better—kind altogether when sexuality has no part in the making of a gay star. In that sense, we are still waiting on the sports world's gay Jackie Robinson.
Jackie Robinson broke into Major League Baseball in 1947 and immediately took the game by storm. His unique combination of power, speed, and intensity completely changed the sport. He was an aggressive, almost terrifying base runner, the last person you wanted barreling toward you when you were trying to turn a double play. Suddenly, a game that had been plodding was electrified; Robinson led the league his rookie year in stolen bases with 29, a number that seems impossibly low now, in the post-Robinson era (and would suffice to lead the league only twice again in baseball history). Baseball was different after Robinson began his career; his race was the primary reason for that, but it wasn't the only one. No bigot could look at Jackie Robinson and make even the most tortured, self-justifying argument that he wasn't good enough to earn a spot on the baseball field. He was the best player on the field.
This is the next step, the emergence of a true gay superstar. Someone whose jersey leaps to the top of the sales chart because he's gay and because he's amazing—someone whose jersey is worn by kids who don't even know he's gay. That's who the gay Jackie Robinson is: Someone who grabs the game and shakes it, dominates it, and then knocks it over. That player is out there. He might already be in the pros right now, watching Sam and Collins and planning something very big.
*This article appears in the March 10, 2014 issue of New York Magazine.