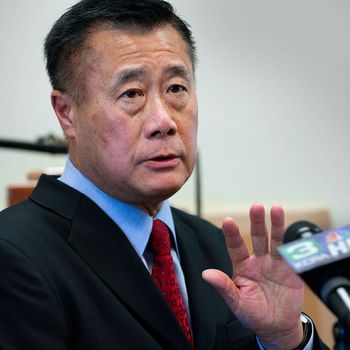 State Senator Leland Yee of California.
Photo: Randall Benton/Sacramento Bee/MCT
It's not often that a state senator becomes national news, but California's Leland Yee is a special exception. After a federal indictment came down against him this week, Yee instantly became one of the most insane political characters in recent memory, accused by the FBI of everything from taking donations in exchange for favors to palling around with a Chinatown gangster named Shrimp Boy and attempting to smuggle guns. Yee, a Democrat, just happens to be a vocal anti-gun and video-game-violence crusader.
Ostensibly, the gun-running was to fund Yee's run for California Secretary of State, which is, obviously, no longer happening (California isn't Toronto). Instead, the state senate will today move to suspend Yee, should he not resign, while he awaits trial on two felony counts of conspiracy to traffic firearms and six counts of corruption.
The potential movie plot, however, is in the details.
Along with Yee, a child psychologist, the probe swept up some two dozen accused crime associates and alleged underworld figure Raymond "Shrimp Boy" Chow, a five-foot-five "ever-swaggering" ex-con "with a shiny bald head and pencil moustache," who claimed to be reformed. This is Shrimp Boy: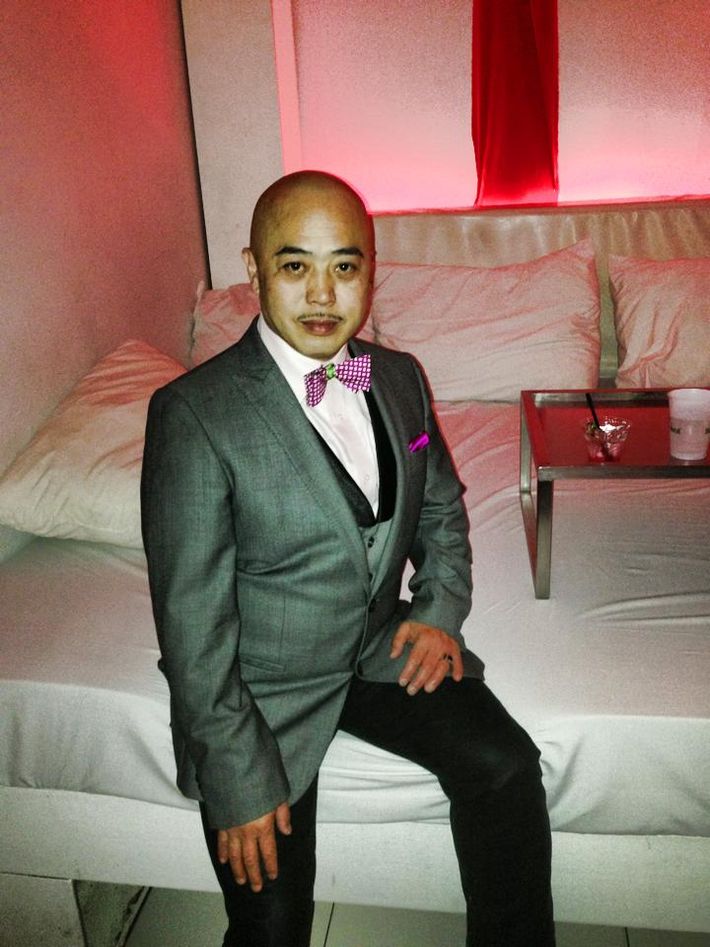 According to the 137-page indictment, he went around talking about how he'd cleaned up his act, while still working as a crime boss, making deals and mediating murders. He also knew his life was ripe for a movie: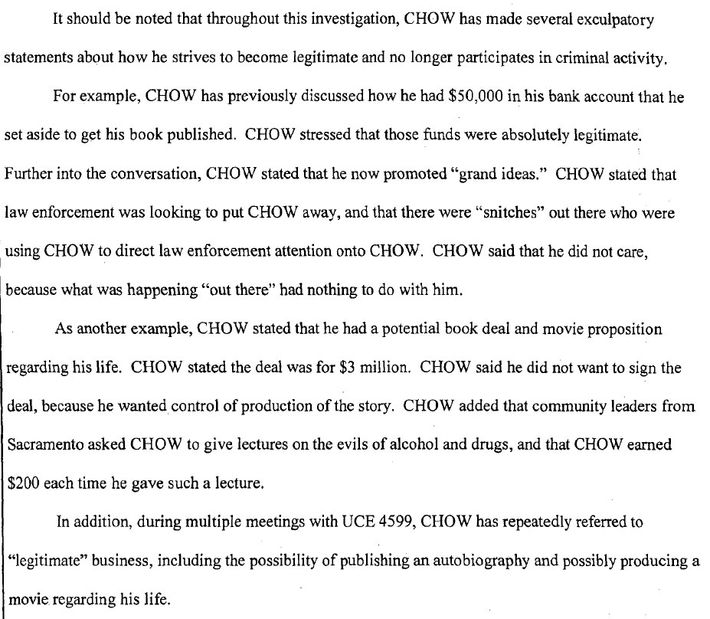 But Yee is the one in government who publicly decried guns while telling an undercover FBI agent about his passing knowledge of Filipino rebel groups, Muslim terrorists, "rocket launchers and things like that."
In public, he's said things like, "More guns are not the answer to protecting our children, as evident by the fact that armed guards weren't enough to stop the tragedy at Columbine High School." In private, according to the FBI, he called his feelings toward arms dealing "agnostic."
Conservatives and the NRA have already pounced. "This poster boy for gun control is a scumbag," said a spokesperson for the NRA.
Politics aside, it's hard to disagree if the indictment is to be believed. Here he is walking the undercover agent (UCE) through his relationship with shady gun dealers: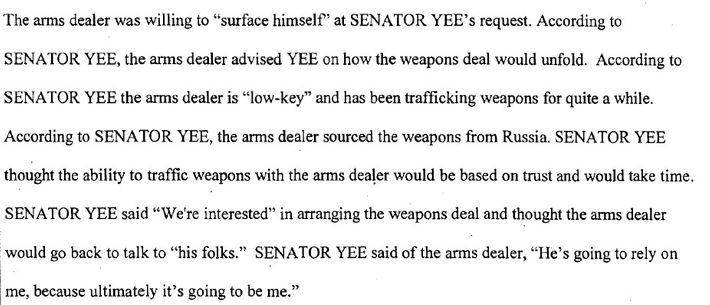 "Do I think we can make some money? I think we can make some money," Yee allegedly said. "Do I think we can get the goods? I think we can get the goods."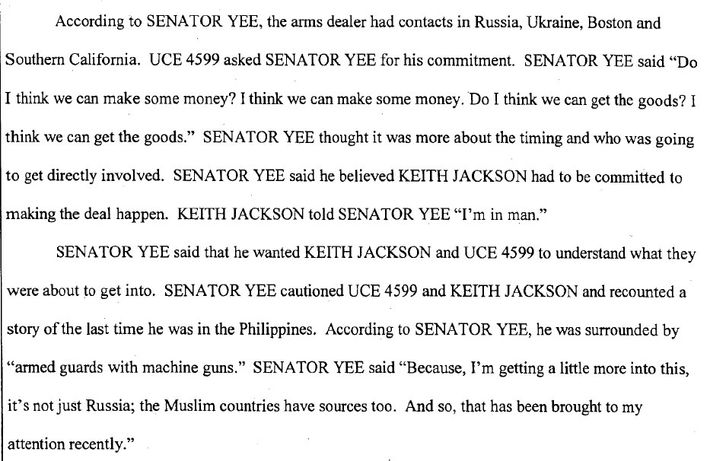 The "goods" were automatic weapons and maybe "shoulder fired" missiles, for good measure.

The other major supporting character is Keith Jackson, a political consultant for Yee accused of "soliciting donations from FBI undercover agents, in exchange for multiple official acts."

In exchange, Yee just wanted to become Secretary of State, while his partners could make all the money because didn't "want to go to jail." Oops.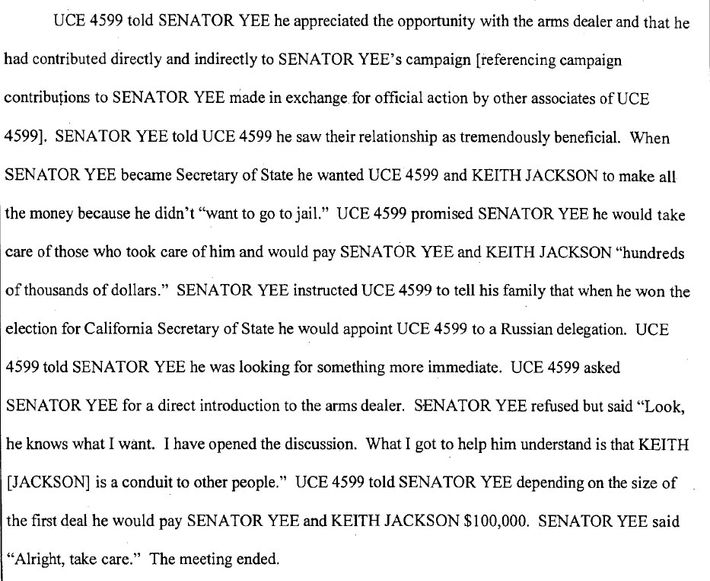 Yee told war stories about his Filipino connections:


And Muslim rebels groups: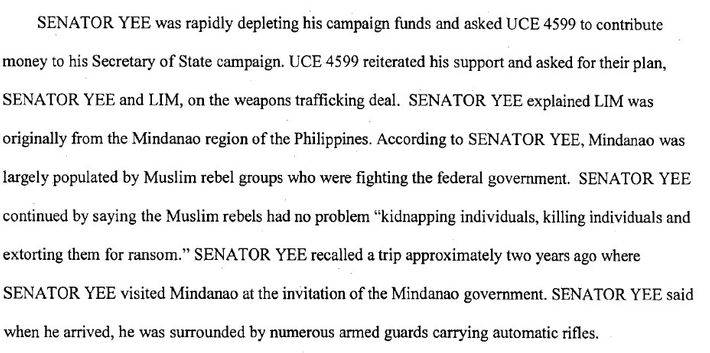 All he wanted in exchange was a few thousand dollars, to buy himself more political power: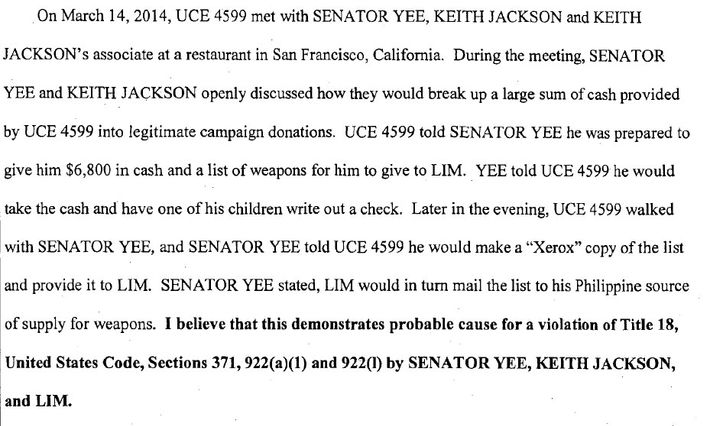 As of yet, Yee has not stepped down. "Leave," said State Senate head Darrell Steinberg, a fellow Democrat, begged. "Don't burden your colleagues and this great institution with your troubles. Leave."