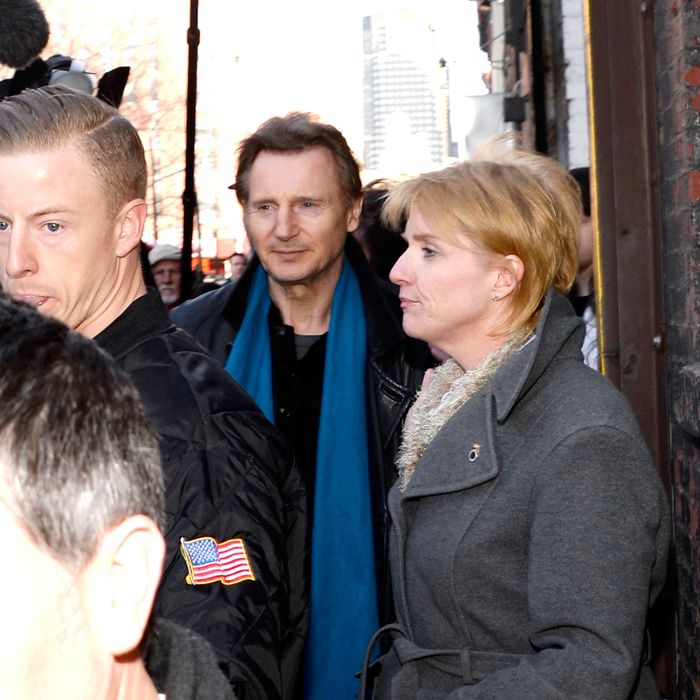 Neeson at Clinton Park Stables on March 9.
Photo: Ben Gabbe/2014 Getty Images
Bill de Blasio doesn't really seem like a worthy enemy for a guy who's tangled with Batman, Darth Maul, and various terrorists, but Liam Neeson has vowed to thwart the mayor's dastardly plot … to rid the city of horse-drawn carriages. While there is no shortage of celebrity animal-rights activists who support Mayor de Blasio's plan to end the Central Park tourist attraction, Neeson has sided with the 300 plus drivers and stable workers who may be put out of work by the ban. On Sunday, the actor took more than a dozen City Council members on a tour of Clinton Park Stables, but the mayor turned down his invitation. "He should have manned up and come," Neeson said. "I'm disappointed he's not here."
Neeson said the horses are "well cared for," and noted that the industry has been in New York since before Abraham Lincoln was president. "It's a connection with our past, it's a connection with our history," he said. "And it has to be said — the great white elephant in the room, four prime locations on the West Side of New York that realtors must be salivating to get their hands on."
The actor also scoffed at de Blasio's suggestion that the horse-drawn carriages be replaced by electric antique replica cars. "That's exactly what New York needs, more cars," said Neeson, adding that electric cars were tried in San Francisco and "failed abysmally."
At a press conference on Sunday, de Blasio said he intends to visit the stables "when the schedule allows" and wants to talk with carriage operators about "new opportunities in other types of related work." He added, "I'm firm about the fact that we have to make this move," which has to be one of the weakest threats Neeson's ever heard.