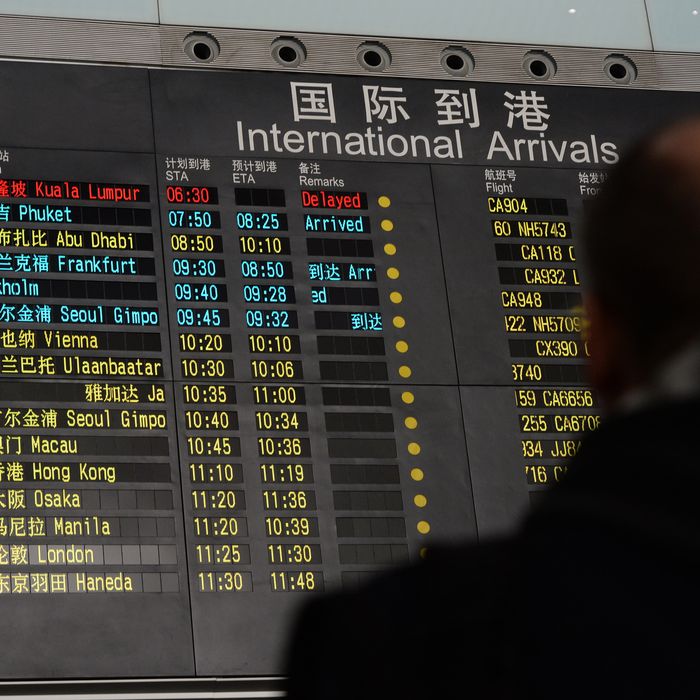 Malaysia Airlines Flight MH370 — a Beijing-bound Boeing 777-200 carrying 239 people — disappeared after losing contact with air-traffic controllers at 2:40 a.m. local time on Saturday. The plane, which was coming from Kuala Lumpur, still has not been located. However, a twelve-mile-long oil slick has been located on the surface of the water in the Gulf of Thailand, off the coast of Vietnam. 
"An AN26 aircraft of the Vietnam Navy has discovered an oil slick about 20 kilometers in the search area, which is suspected of being a crashed Boeing aircraft," said Lai Xuan Thanh, the director of Vietnam's Civil Aviation Administration, at a Saturday press conference, according to the New York Times. Pham Quy Tieu, Vietnam's vice minister of transportation, told Reuters that "two maritime boats and some military boats" sent "to clarify" should reach the site within the next several hours.
According to Malaysia Airlines, Flight MH370 was carrying passengers and crew from over a dozen countries, including 153 from China, 38 from Malaysia, 7 from Indonesia, 6 from Australia, 5 from India, 4 from France, 3 from the United States, 2 from New Zealand, 2 from Ukraine, 2 from Canada, and 1 each from Russia, Italy, the Netherlands, and Austria. Two infants were aboard the plane, which was flying in good weather conditions at 35,000 feet when it vanished from Flight Aware's tracking map. It did not send out any distress signals before going missing.
It also seems that two people on the flight may have been traveling with stolen passports, raising the possibility that the crash was an act of terrorism. A 37-year-old Italian man, Luigi Maraldi, whose name was listed on the flight's manifest, told reporters that he was currently safe in Bangkok, and that his passport was stolen in Thailand last August. A 30-year-old Austrian man whose name was also on the manifest, Christian Kozel, had a similar story: His passport was also taken in Thailand. 
An American intelligence official told the New York Times that the stolen passports were "interesting," but added, "At this time, we have not identified this as an act of terrorism." However, he said that investigators were looking into the matter "very aggressively." Meanwhile, an anonymous European counterterrorism official told the paper that it was "surprising" that someone was able to check into the Kuala Lumpur airport with stolen passports. "I think this should be checked thoroughly," he said. "Maybe they were careless — or somebody helped them."
This post has been updated throughout.