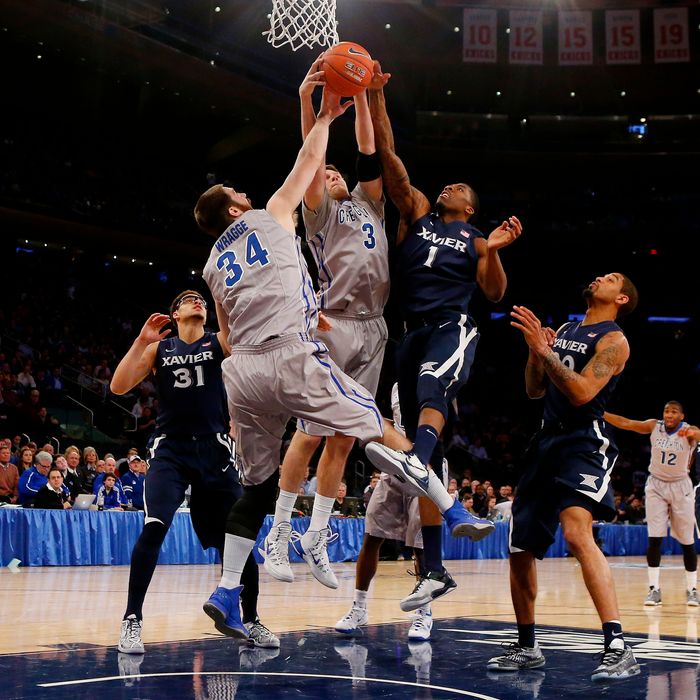 Jalen Reynolds #1 of the Xavier Musketeers vies for a rebound with Doug McDermott #3 and Ethan Wragge #34 of the Creighton Bluejays during the Semifinals of the 2014 Men's Big East Basketball Tournament on March 14, 2014.
Photo: Jim McIsaac/2014 Getty Images
March is the maddest month — the time of year when even people who don't watch college basketball are at high risk of getting pulled into a conversation about it. For this reason, Daily Intelligencer has compiled a guide to sounding smart about the NCAA tournament, whether you care about it or not.  
There are 351 Division I college basketball teams, yet only 68 make the NCAA tournament each year. Some are well known and play in powerhouse conferences like the Atlantic Coast Conference, while others play in gyms that might seem better suited for a high-school squad. Consider the following a primer to help you navigate any conversation involving March Madness, providing insight on the top story lines as well as the angles that will make you look like you've been following since the beginning of fall practices.
The seeding is particularly horrible this year: People will always complain about the selection committee, and the seemingly arbitrary and bizarre method with which they rank and choose each field, but there is a legitimate beef this year. Louisville, New Mexico, and Cincinnati were comically underseeded, Massachusetts was given a bloated six-seed, and Wichita State, the first team since UNLV in 1991 to enter the tournament without a loss, might have to face Duke, Michigan, Kentucky, and Louisville to reach the Final Four – a bracket unprecedented for a number one seed. Oddsmakers in Las Vegas have already cried foul and college basketball fans have begun to resort to conspiracy theories.
The numbers nerds have anointed a smart-money favorite: Nate Silver — and a certain other brainy hoops fan — have both picked four-seed Michigan State to win the tourney. It's bit unorthodox to choose a team seeded that low to prevail, but the Spartans are no Cinderella. Coached by Tom Izzo, one of the game's legends, they have been in the NCAA tournament each season since 1996-97. After battling with injuries throughout the season, the team is finally healthy, and since the Spartans are in the weakest region, they are a legitimate threat to make the NCAA title game for the third time under Izzo.
The most compelling player duo plays for the Creighton Bluejays: Doug McDermott, a senior forward for Creighton, will end his college career as one of the game's most storied players. Suiting up for his father, Greg, who is the team's head coach, McDermott has now scored over 3,000 points, and ranks fifth on the NCAA's career scoring list. Playing Robin to his Batman is Ethan Wragge, a bearded 6-foot-7 shooter who hits so many threes that his shot has its own nickname: Wragge Bombs. He's an absolute specialist: Just seven of his shot attempts this season have been two pointers, compared to 220 threes (he made a whopping 47 percent).
Canadians are taking over the tournament: The words "Canada" and "basketball" used to conjure images of Steve Nash, the sole Canuck to carve out a significant career in the NBA. But there has been a recent explosion of high-level hoops talent in America's Hat. Recent tournaments have featured Cory Joseph, Tristan Thompson, and Anthony Bennett, all Canadians who went in the NBA's first round (Bennett was first overall), and several of the best players in this year's bracket were also raised north of the border, including Andrew Wiggins, a Kansas forward who has been described as the next LeBron James. Syracuse's Tyler Ennis and Iowa State's Melvin Ejim lead their respective squads, and should be first-round selections, while Baylor's Brady Heslip, Stanford's Dwight Powell, shot-blocking center Jordan Bachynski of Arizona State, and Kevin Pangos of Gonzaga all start and contribute significantly. There are a total of 25 Canadians among the 68 teams.
A pair of towering brothers from the Punjab lead the nation's tallest team: For the second year in a row, New Mexico State's squad ranks as the tallest in the field. In no small part, that's thanks to Tanveer and Sim Bhullar, brothers from Punjab-via-Toronto (more Canadians!) who stand 7-foot-3 and 7-foot-5, respectively. Tanveer is redshirting this season, but Sim will be a focal point of the Aggies' gameplan when they play San Diego State. The center plays more than 25 minutes per game and averages ten points and eight rebounds.
There are two squads that almost never sub: Don't expect to see many bench players when Saint Joseph's and Providence take the court (against Connecticut and North Carolina, respectively). The two teams swear by their starters – reserves get less than fifteen percent of both teams' available minutes. Both head coaches would rather burn timeouts than give their players a breather. Proof? Providence's Bryce Cotton is averaging 40.1 minutes of playing time this season — notable considering there are only 40 minutes in a game. (Overtime contests nudged him a bit higher.) 
New Yorkers have a local team to root for: The only team from the NYC area in the tournament field, Manhattan earned an NCAA automatic bid after defeating their historic rival, Iona, in the MAAC tournament championship. While some teams represent a city, or area, but stock their squads with far-flung talent, the Jaspers are as New York as a combination of Ellis Island, Duane Reade, and $1 pizza shops. Eight New Yorkers are on the team, a list that doesn't include star guard George Beamon (Long Island) or coach Steve Masiello (Yonkers). One of those Big Apple bred players is Shane Richards, who attended a tiny Upper East Side private school and didn't have a Division I scholarship offer until Masiello became head coach — he now leads the team in three point shooting.
After three gruesome injuries, this player is finally dancing: When Maurice Creek arrived at Indiana for the 2009-10 season, the guard was a highly-touted recruit who many thought would shortly leave school for the NBA. However, during a 22-month period, Creek fractured his left kneecap, then suffered a stress fracture in his right knee, and finally blew out his Achilles — all three of which required surgery and rehab. Creek graduated last season, but transferred to George Washington for his final year of eligibility, and has become an offensive focal point for the Colonials, hitting 41 percent of his three-pointers.