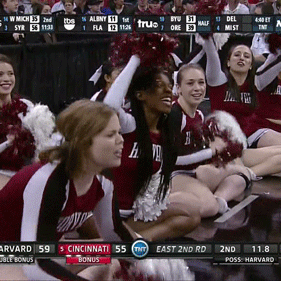 The ball is tipped, and there you are … sneaking a few glimpses of streaming video while you're supposed to be working. That's no way to spend the first day of the NCAA Tournament, but it's the sad reality for anyone who forgot to schedule a vasectomy this week. For those unfortunate souls, we've assembled this GIF recap of the best moments from the year's best day in sports.
Eleven-seed Dayton and six-seed Ohio State opened the day's action with the battle for I-70 supremacy. Don't be fooled by those seedings though; the Buckeyes were a disappointment all year, despite the presence of White Jesus (Aaron Craft). Down one with 3.8 seconds to go, the messiah had a chance to win the game and extend his career. Instead, he went out like this.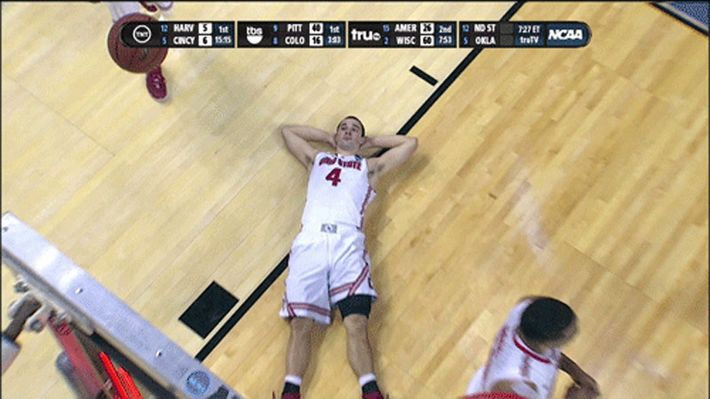 Meanwhile, Dayton celebrated its upset win by smashing their bodies into each other and screaming and hugging.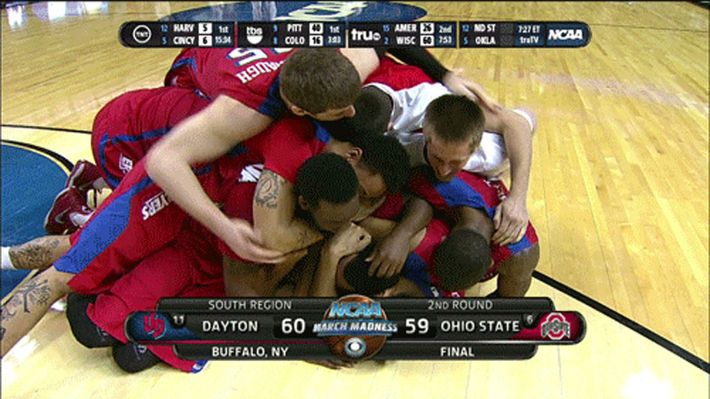 At about the same time, Wisconsin and Arizona were finishing a game notable only for the margin of victory (the Badgers won by 40) and the one-handed free throws shot by Eagles center Tony Wroblicky. Swish.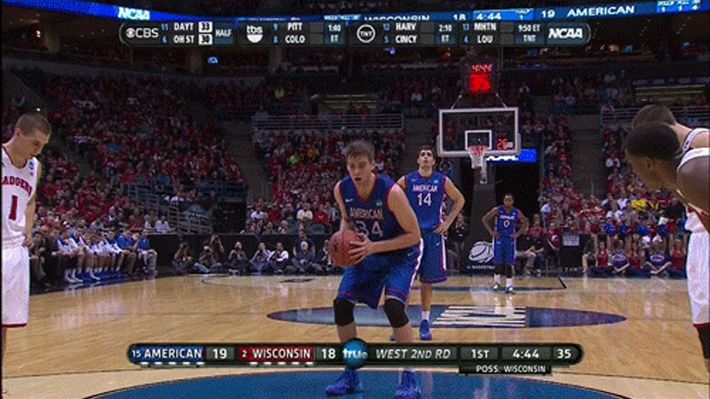 The biggest story of the early games was those overlooked underdogs at the school with a $30 billion endowment. Harvard was a trendy upset pick coming into its first round game against Cincinnati, thanks in part to athletes who can do things like this.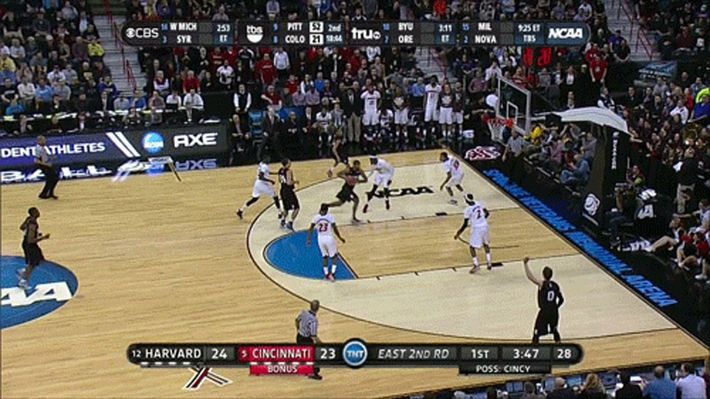 In the end, the Crimson were too much for the Bearcats, whose punishment for their first round loss is a return to the land of Skyline Chili. Senior center Titus Rubles was distraught.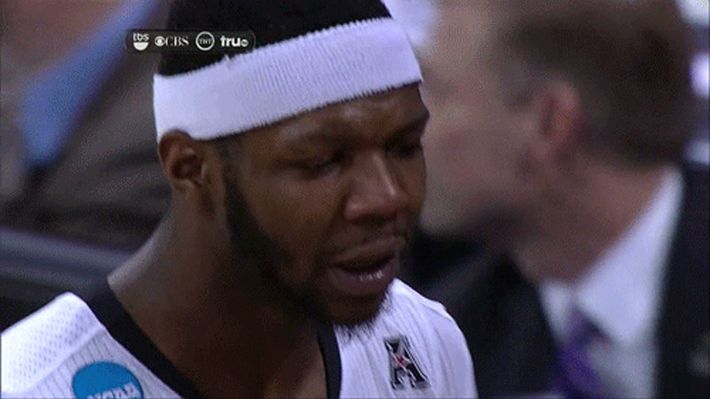 The non-existent award for best shot of the day that didn't count goes to the Oregon Ducks, who pulled off this ridiculous 60-foot alley-oop as time expired in the first half. Turns out the Ducks wouldn't need those two points. They won by 21.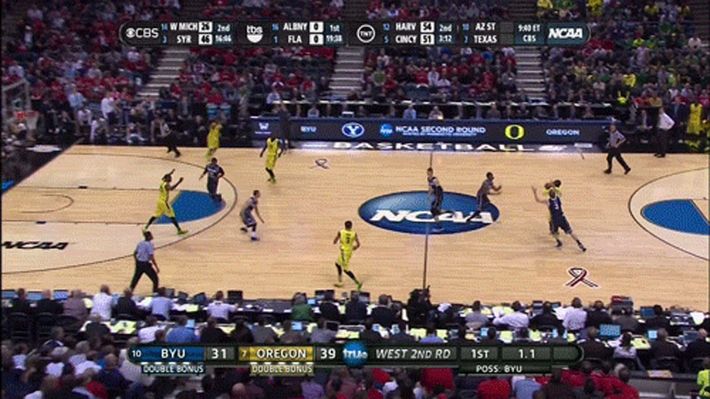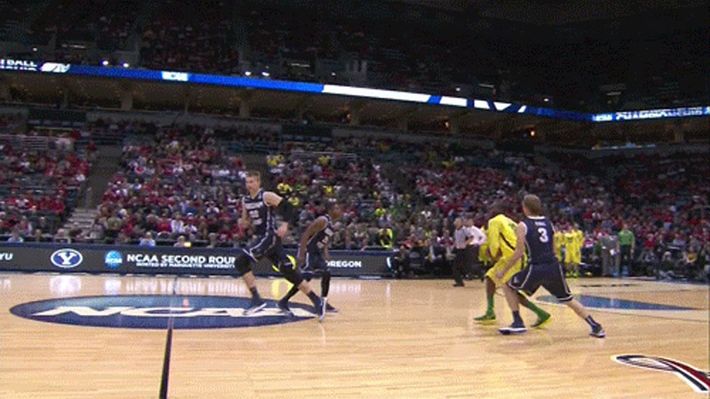 Florida, on the other hand, had a hell of a time putting away sixteen-seed Albany. In the end, their physicality overwhelmed Albany. Kneeing dudes in the head helped too.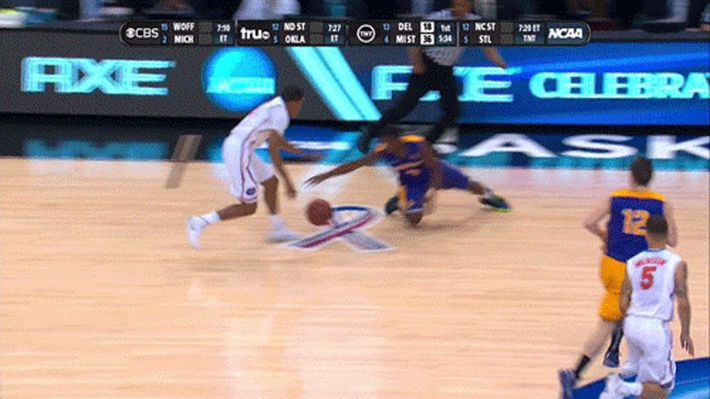 St. Joe's lost a heartbreaker to UConn in what would be the first of the day's four overtime games. Would they have fared better if they ran this play that coach Phil Martelli's grandson was drawing up on the sideline? We'll never know.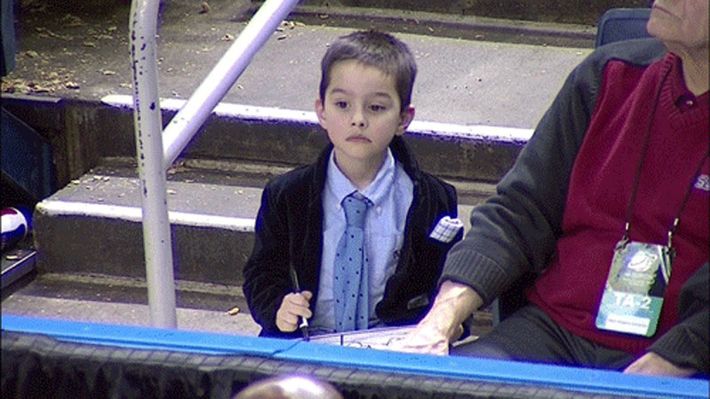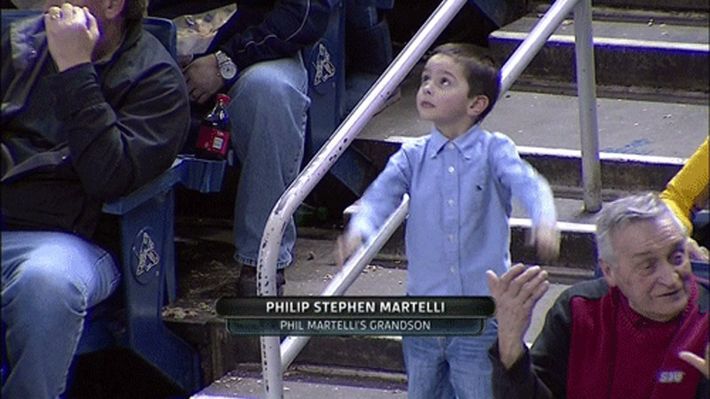 These hop happy people in blue are the family members of Rob Loe, the Kiwi big man who helped St. Louis climb out of a sixteen-point hole and got some Twitter love from the other Rob Lowe.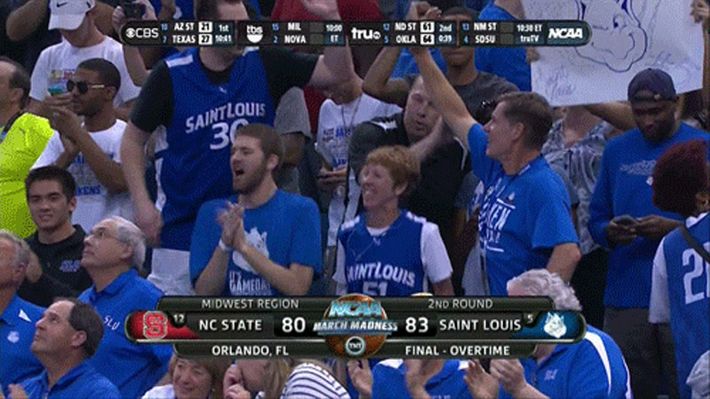 The win and GIFs of the night come courtesy of the North Dakota State Bison (apparently pronounced biZZZZZon), who knocked off five-seed Oklahoma in overtime. First up, it's head coach Saul Phillips, proving that he's the most metal man in America.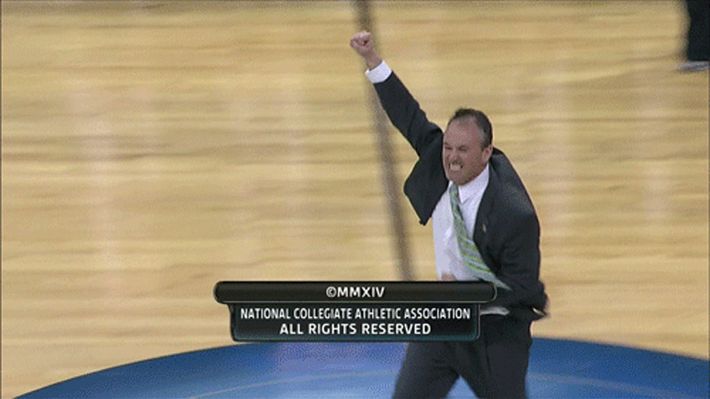 And second, three of his players showing how to properly celebrate an upset win.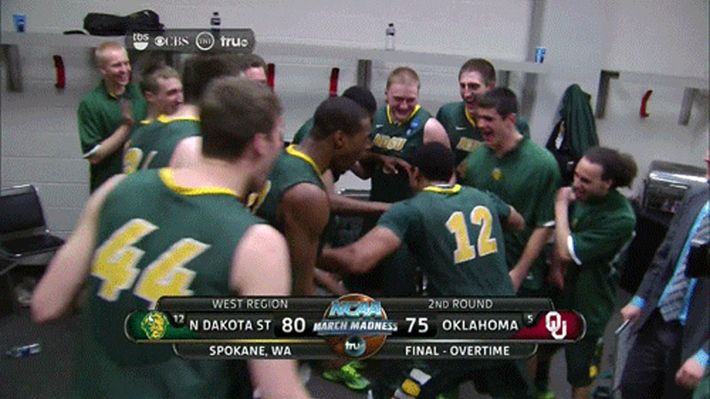 We're a dozen GIFs in and you're thinking, "Uh, buzzer beater please." Okay, here. Cameron Ridley. Two points. Texas wins.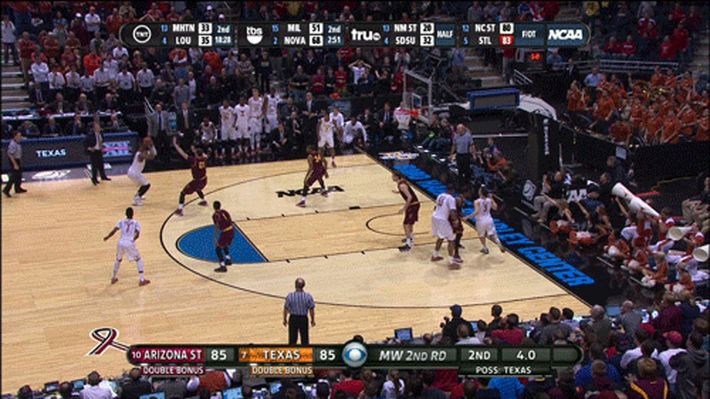 Now pretend you didn't see that shot. Take a look at the Arizona State bench and see if you can tell if Ridley's shot went in.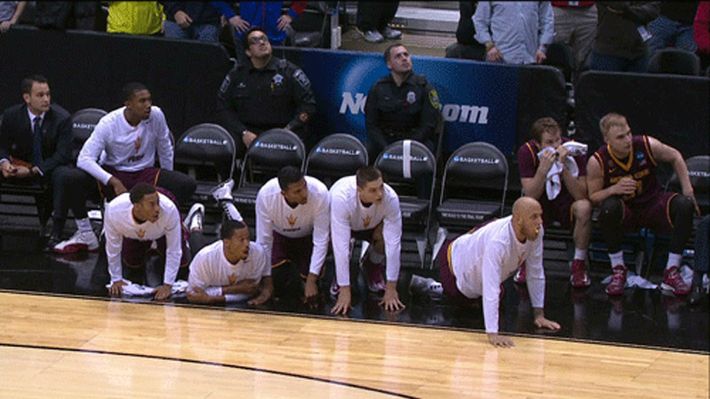 And now Texas's bench.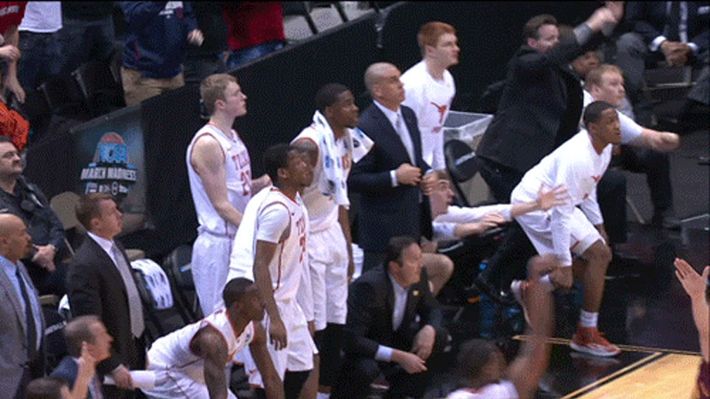 A ridiculous day of basketball ended with two near ridiculous upsets. Manhattan, which is in the Bronx, almost pulled off the first one. They stayed with defending champions Louisville for 39 minutes, and then Luke Hancock took over. First he he stole an inbounds pass. Then he hit two free throws. Then a three. And then this, which is what they call a dagger.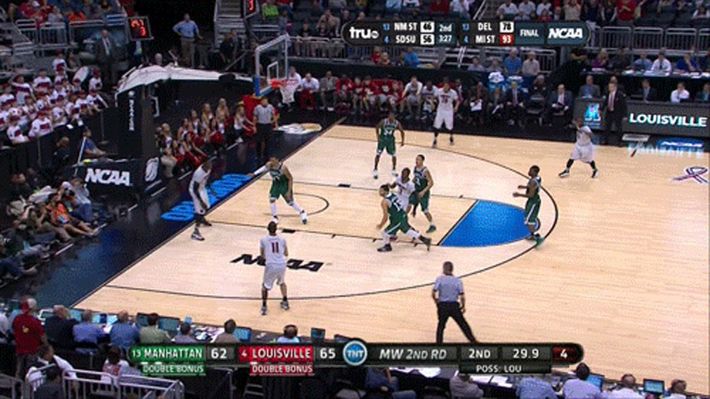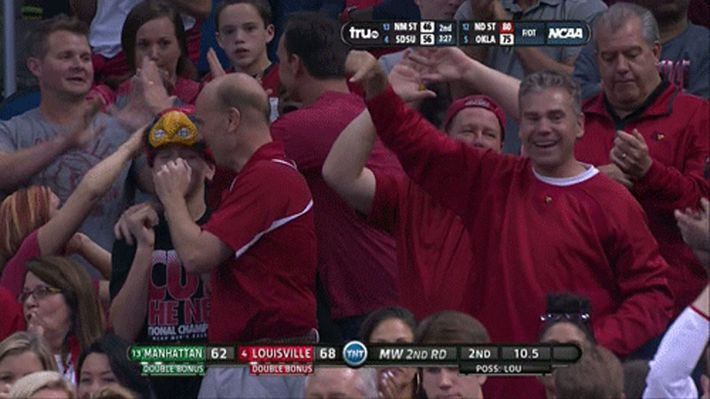 In the last game of the night, San Diego State squeaked by New Mexico State. But first they had to go to overtime after Aggie Kevin Aronis hit a three that was so deep it probably should have counted for four. Alas, NMSU couldn't hold on in overtime and thirteen hours after it began, the first day of March Madness ended.