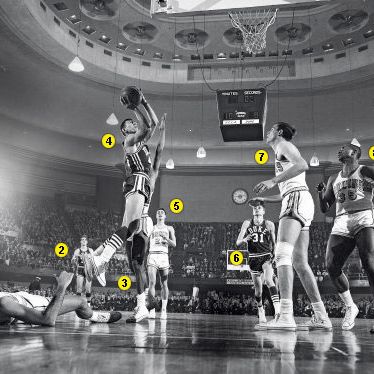 In 1964, the NCAA men's basketball championship featured two of the sport's now-storied programs—Duke and UCLA—before either had much of a story to tell. Neither had yet won a national title, until the Bruins' 98-83 win became the first of John Wooden's ten in 12 years. Back then, there was no such thing as an office bracket pool. Even the game, from the short-shorts up, was different. UCLA didn't have a single starter over six-foot-five; all but one on this year's UCLA squad is six-five or taller. Several players went on to NBA careers, but, in another sign of how much hoops has changed, more than one turned down the pros in favor of better career options off-court. 
1. Jack Hirsch
Porn profiteer
Born and raised in Bed-Stuy, Hirsch moved to Los Angeles as a teenager and agreed to attend UCLA if his father quit his five-packs-a-day habit. Hirsch coached some after college but became wealthy thanks to his family's businesses: bowling alleys and pornography. Of the latter, Hirsch told Sports Illustrated, "It's infinitely cleaner than recruiting."
2. Buzzy Harrison
Doctor
A quick guard and deft shooter from West Virginia, Harrison was also the team's quietest member, according to his teammates. Off the court, he was president of the local Fellowship of Christian Athletes chapter. Eventually Buzzy Harrison became Dr. Frank Harrison, with degrees in divinity
and medicine.
3. Walt Hazzard
NBA player and NCAA coach
Hazzard was a top draft pick in the 1964 NBA Draft but never became a star. He converted to Islam and changed his name to Mahdi Abdul-Rahman, but switched back after he felt the change started to cost him job opportunities. He returned to coach UCLA in 1984.
4. Jeff Mullins
NBA player
Mullins was Duke's star—this shot went in—and the only Duke player shown here to play in the NBA. He became a three-time NBA All-Star with the San Francisco Warriors. Later he became president of the board of directors for a nonprofit that helps retired basketball players adjust to life off the court.
5. Gail Goodrich
Golf exec
Goodrich was an All-American  who temporarily became UCLA's all-time leading scorer. After an All-Star NBA career, he settled into a post-basketball career as a golf-course executive in Connecticut.
6. Hack Tison
Company man
Tison was drafted by the Boston Celtics but declined. By that point, "I was tired of the traveling and ready to get on with my life," Tison says. "Plus, I could make more money working for IBM." He worked as a data-processing salesman for IBM for six years, before switching to a furniture-salesman job for the rest of his career.
7. Keith Erickson
Volleyball Olympian
Wooden, who coached Kareem Abdul-Jabbar and Bill Walton, once said that Erickson was the finest athlete he had worked with. Erickson also went to the 1964 Olympics as a volleyball player. He spent a decade in the NBA and then became a broadcaster.
8. Fred Slaughter
Sports attorney
This was the final game of Slaughter's college career, and it ended quickly: He hurt his back during tipoff. Slaughter could have played pro, but the NBA "didn't pay enough." Instead, he became a powerful sports attorney with no regrets about quitting hoops. "Tell 'em I live 18 blocks from the water [in Santa Monica]. Eighteen narrow blocks," he says.
9. Denny Ferguson
Professor
After Duke, Ferguson went to Cornell, where he earned a Bachelor of Science and a Ph.D. in hotel administration and worked at the university for 30 years, winning multiple teacher-of-the-year awards. He also co-authored the superbly titled INNovation: Creativity Techniques for Hospitality Managers. Ferguson died from cancer in 2001 at 58.
*This article appeared in the March 24, 2014 issue of New York Magazine.