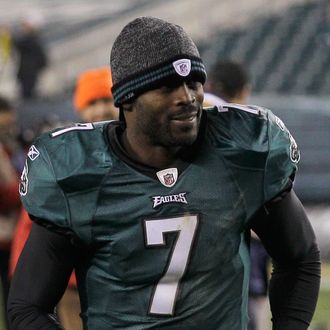 Photo: Rob Carr/Getty Images
Five seasons after joining the Eagles as the Philadelphia team's quarterback, Michael Vick (known for his skills on the field and his imprisonment for his involvement in a dog-fighting ring) is leaving for New York. According to an announcement from the Jets, Vick signed with the team late Friday. The 33-year-old "joins the competition at quarterback for the 2014 season. At the moment that competition includes Geno Smith and Matt Simms but not Mark Sanchez, whose release was announced shortly before Vick's signing," said a post on the official Jets website.
Both parties are "excited," with Vick saying that he hopes to "be an asset whenever my number's called." His new employer added, "He's here in a role where he's going to compete and push Geno Smith to become the very best that he can be. Michael will be able to go in and play at a high level and a winning level if called upon." According to ESPN's Adam Schefter, Vick has agreed to a one-year, $5 million deal.
On Friday night, the Philadelphia Enquirer published Vick's farewell letter to the city. In it, the quarterback thanked Eagles chairman Jeffrey Lurie, former head coach Andy Reid, his teammates, and all Eagles fans. "People say Philadelphia fans are tough. I say they are fair. A player is not judged solely by his past or promises of the future, but by his actions today, and the next day, and the next," he said. No one tell him what New York is like before he gets here.