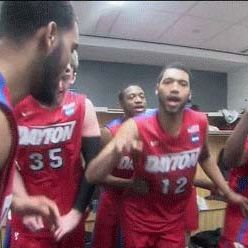 Saturday's NCAA Tournament action got off to a slow start, with the first four games of the day ending in double-digit victories for the favorites. After two days of upsets, overtimes, and wild finishes, it looked like Saturday's slate of games wouldn't be busting many brackets. But then things got good: Underdog Dayton knocked out Syracuse, a number-three seed; Oregon hung with Wisconsin, a number two; Harvard made things interesting against Michigan State, a trendy pick to win it all; and UConn took down second-seeded Villanova.
Bill Belichick took in the Florida-Pittsburgh game in Orlando, and apparently said something funny.
Florida and Pitt, both good defensive teams, played a tight first half, with the Gators taking a five-point lead into the locker room thanks to this Scottie Wilbekin buzzer-beating three. (Florida would pull away in the second half to advance to the Sweet Sixteen.)
Louisville and Saint Louis combined for just 41 points — plus one nasty elbow to the face — in an ugly first half.
The Billikens missed a lot of shots in this game — they were 0-15 from beyond the arc — but somehow this went in. (They lost, 66-51, by the way.)
Michigan fans were having fun even before tip-off.
The Wolverines, meanwhile, cruised against Texas. This alley-oop to Glenn Robinson III was especially pretty.
The day remained predictable into the evening, with Xavier Thames and San Diego State knocking off the twelfth seed, North Dakota State, 63-44.
Finally, a close game! Jim Boeheim, whose third-seeded Syracuse team trailed eleven-seed Dayton at the half, didn't like a flagrant foul call on Trevor Cooney, though on the Boeheim Freak-Out Scale, this rates just a two out of ten.
Dayton's bandleader: looking good, feeling good.
Syracuse guard Tyler Ennis's last-second shot clanked off the back rim, and underdog Dayton advanced to the Sweet Sixteen with a 55-53 victory.
Dayton's players celebrated on the court …
… while Morgan Miller, wife of head coach Archie Miller, celebrated in the stands.
Meanwhile, in the Oregon-Wisconsin game:
Oregon hung with second-seeded Wisconsin, but the Badgers ended the game on a 13-5 run to win 85-77. The last three points came on free throws after this dead-ball technical foul:
Harvard rallied to give Michigan State a game, to the delight of the Crimson's band.
Here's Harvard's student radio broadcaster, who presumably just read a tweet or a text informing him that TNT had played his call on TV. (Do listen to the call, by the way. It sounds exactly like you think it does.)
Ultimately, though, Harvard's season ended in the round of 32 for the second consecutive year. Keep your chin up, kid.
In the final game of the day, Shabazz Napier scored 25 points to lead UConn to a 77-65 victory over second-seeded Villanova. (The Huskies will next play on Friday at Madison Square Garden.) Late in the second half, Napier went to the bench with a bruised shin and appeared to be in quite a bit of pain. But he returned to the game with 3:24 remaining and did this:
A couple more wins and UConn's bench celebration, seen here from earlier in the game, might just catch on.