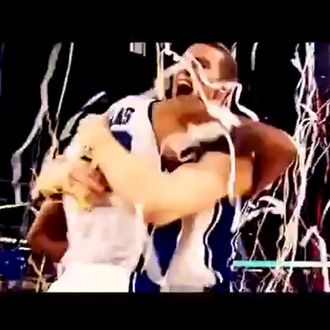 Just days before local rivals Louisville and Kentucky face off in the Sweet 16, the state's senior senator, Mitch McConnell, released an ad for his reelection that called out "socialist notions" and climaxed with a quick clip of a blue-and-white basketball team celebrating its NCAA championship. It was Duke. "Obviously we were horrified by the error and quickly changed it," said UK alumnus and McConnell spokesperson Allison Moore. But the new edit failed, too.
A second version featuring star freshman Julius Randle dunking was quickly swapped in, only to be hit with a cease-and-desist from the University of Kentucky for "improper usage of a student-athlete's name, image or likeness."
Rather than try to prove a third time how much McConnell just loves Kentucky, the campaign threw up its hands and took the video down. "It was our intention to honor our great Kentucky basketball traditions," said Moore. "Our campaign apologizes for any inconvenience this may have caused."
But because this is the internet, the clip, as seen above, was saved for posterity. It now has more than 50,000 views, far more than it would have had otherwise, although not from its target demographic. The campaign could try a cease-and-desist of its own, but it'd probably screw it up.