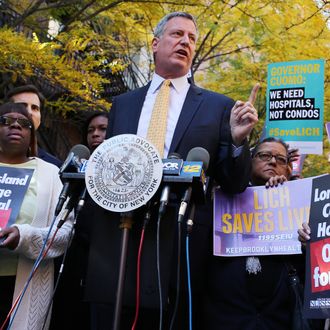 Photo: ? Andrew Lichtenstein/Corbis
It was a signature image of the mayoral campaign, and a turning point: Bill de Blasio in handcuffs, intentionally getting arrested to protest the planned closing of Long Island College Hospital. De Blasio and his strategists had hotly debated the move, worried that it wouldn't look "mayoral."
Things worked out pretty well — for de Blasio, anyway. For LICH, the legal and political wrangling has continued unabated since that July 2013 protest. Now another pivotal moment looms. On Monday, the nine new proposals to redevelop the site are to be ranked. On Thursday, executives from SUNY, which owns the hospital, are expected to vote and choose a winner.
De Blasio and his allies have already won, in a couple of ways, even though the final result could turn out to be well short of "saving LICH," as the mayor claimed in a triumphal February press conference. He and community groups forced a restructured rebidding that prioritizes medical uses of the LICH site, and the process has attracted more bidders offering more money.
The nine proposals vary widely in their attempts to come up with a magical mix of cash, residential space, medical care, and progressive political goodies. The highest bid, $260 million, is from developer Don Peebles, who says his project would give half its jobs to women- and minority-owned businesses, but whose main medical component would be a free-standing emergency room. The other end of the spectrum, medically, includes a bid from the Chinese Community Accountable Care Organization, which says it would erect a new full-service hospital. The CCACO is partnered with John Catsimatidis, so presumably the hospital cafeteria would be run by Gristedes.
The three top contenders appear to be the Fortis Property Group ($240 million, an ER and other medical services run by NYU Langone and Lutheran Medical Center, 25 percent affordable housing); Brooklyn Hospital Center ($212 million, a Mt. Sinai ER, health centers for Gowanus and Red Hook); and Prime Healthcare Services ($220 million, a full-service hospital, apartments).
The dollar amounts and facility mixes will be plugged into a complex formula devised by SUNY and the community groups. Those calculations don't account for political alliances, however. The most intriguing maneuvering involves 1199 SEIU, the health-care workers union, which has deep ties to the de Blasio administration. Governor Andrew Cuomo, who is running for reelection, is attempting to revamp the state's larger hospital system and would welcome the support of 1199 in both efforts. The union's West Coast chapter has been fighting with Prime hospitals in California; 1199's New York affiliate appears to have lined up behind Fortis's bid.
But even this endgame may not turn out to be the end. "It's very difficult for me to see how anything other than a hospital could win," says Jim Walden, the lawyer for community groups fighting to keep a full-scale medical facility at LICH's Cobble Hill location. "If there's any monkey business concerning the criteria, we're going to be back in court in a minute."