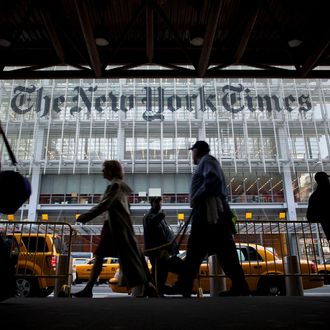 Photo: Michael Nagle Bloomberg/Bloomberg via Getty Images
It has returned. The scent of meat that loomed over New York Times business reporters more than two years ago is back … with a vengeance? "Several BizDay employees were suffering health effects, including burning eyes and breathing issues, from what had been dubbed a 'meat cloud,'" the Newspaper Guild reports in an updated complaint, citing Wolfgang's Steakhouse downstairs as the more than likely culprit. But seriously: Is Andrew Ross Sorkin going to be okay?
Although the problem has persisted even after the ventilation system was adjusted, the long-term effects of the meat cloud are likely minimal, says science:
Labor Relations then agreed to our suggestion that the air be professionally tested, which was done by industrial hygienists on Feb. 18. On Friday, The Times received the results: no carcinogens, carbon monoxide or other harmful elements were detected.

While obviously this is good news, the odor has not completely abated. The industrial hygienists said the smell seemed strongest near the windows and might not necessarily be coming from the vents and ductwork. Times management said it would look into this further, and that sealing the windows might be a solution.

For now, this is being considered a "quality of life" issue and not a health concern.
Those affected have been temporarily moved and hopefully treated to a salad. Because if the constant scent wasn't enough to somehow make steak unappetizing, the term meat cloud must have been.
Update: "This odor is an issue, one that seems to occur seasonally at around this same time each year," Times spokesperson Eileen Murphy tells Daily Intelligencer. "At present, we are working with the architects of the building on a solution more permanent than relocation."