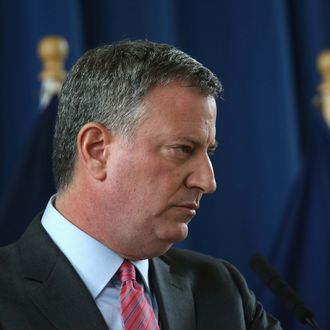 Photo: John Moore/Getty Images
Earlier this month, a Wall Street Journal/NBC New York poll showed that only 39 percent of participants approved of still new Mayor de Blasio's job performance, though 59 percent of participants still viewed him "favorably." On Tuesday, a Quinnipiac University poll gave him better numbers, with 45 percent saying they approve of the mayor's work thus far. However, another poll released on Wednesday, also by Quinnipiac, suggests that New Yorkers are mostly unsure about his policies.
While 54 percent of voters like Governor Andrew Cuomo's plan to fund universal prekindergarten for New York City kids with the state budget, only 35 percent approve of de Blasio's proposed method of raising taxes on the wealthy — a major platform of his during last year's campaign. People are divided on his recent handling of charter schools, which included the decision to rescind 3 of 17 Bloomberg-approved charter school plans: "40 percent believe de Blasio should increase the number of the privately run but publicly funded schools, while 39 percent believe the number should stay the same and 14 say it should be decreased," according to CBS New York.
But voters' disagreement with de Blasio is starkest when it comes to the defining issue of our time: the Central Park carriage horses. Sixty-four percent said that he should not follow through with his promise to do away with the industry, while only 34 said he should. Who knew Liam Neeson had so much influence?