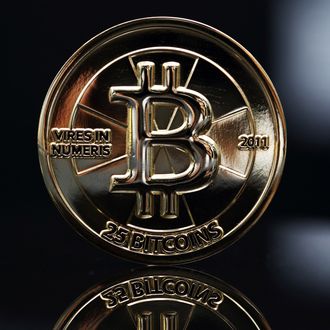 Photo: Tomohiro Ohsumi/Bloomberg via Getty Images
Newsweek writer Leah McGrath Goodman went looking for Satoshi Nakamoto, the mysterious creator of Bitcoin, who was previously widely assumed to be a pseudonym for a group of hackers based in Japan. Goodman claims to have found him in plain sight: a 64-year-old engineer from Temple City, California, whose name is actually Satoshi Nakamoto.
Nakamoto, whose own brother called him "an asshole" who has "worked on classified stuff" in an interview with the magazine, refused to talk about his involvement with Bitcoin. But the reveal passes the smell test – unless some extraordinary contradictory proof emerges, it's safe to assume that Newsweek got its man.
Here is what Goodman dug up about Nakamoto:
– He looks like a stereotypical hacker: "He's wearing a rumpled T-shirt, old blue jeans and white gym socks, without shoes, like he has left the house in a hurry. His hair is unkempt, and he has the thousand-mile stare of someone who has gone weeks without sleep."
– He likes his privacy. When Goodman knocked on his door, he called the cops, but not before telling her that "I am no longer involved in that and I cannot discuss it … It's been turned over to other people. They are in charge of it now. I no longer have any connection."
– He's worth an estimated $400 million (!), assuming he still owns most or all of his original Bitcoin stash.
– He collects model trains, and has done work for the U.S. government as well as private contractors. He previously worked as an engineer at Hughes Aircraft.
– He lives with his 93-year-old mother and has six kids. He changed his name at age 23, and now goes by "Dorian S. Nakamoto."
– His libertarian politics mesh with those of many in the Bitcoin community. "He was very wary of the government, taxes and people in charge," one of his daughters told Newsweek.
– Bitcoin may have come about because he was frustrated about his model train hobby, and "his frustration with bank fees and high exchange rates when he was sending international wires to England to buy model trains."
The r/bitcoin subreddit, home to the spiritual heart of the hardcore Bitcoin movement, is filled up with rage and skepticism today at Newsweek's apparent revelations about its leader. "It doesn't make any sense at all," one poster wrote, on a thread titled "The Newsweek article is wrong about Satoshi." "Signed keys or GTFO," another wrote.
Newsweek's comment section, too, is brimming with ire from Bitcoiners, upset that the magazine would dare to violate Nakamoto's privacy. (The Bitcoin community still largely abides by the Old Internet rule that anonymity is a boon, and worth respecting even at the price of transparency.) "Is Newsweek going to provide 24/7 protection for this man, after you've just outed the name and address of a man potentially worth 1000 million dollars, who likely holds the private keys to his BTC in his home?" wrote one commenter.
It's true that Goodman's exposé doesn't amount to an open-and-shut case for Nakamoto's authenticity. But it's close enough to shift the burden of proof onto Nakamoto. Now, unless proven otherwise, he's going to be assumed to be the man who created Bitcoin, and, perhaps unwittingly, started one of the most fascinating technological cults of our time. The Bitcoin movement now has a leader – now it just needs to decide what to do with him.
Update: Satoshi Nakamoto has apparently denied being the creator of Bitcoin, after emerging from his house to a sea of waiting reporters, and is now leading the press corps on a car chase through his hometown. What a world.