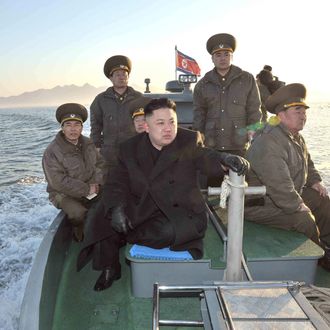 Photo: KCNA via KNS/AP/Corbis
North Korea tests its rockets and threatens to turn various enemy territories into a "sea of fire" so often that most people tune out Kim Jong-un's antics unless there's potentially hilarious haircut news. But over the weekend the usual saber rattling quickly escalated, pushing tensions between North and South Korea to their worst point in months. After making the unusual announcement that it would be conducting live-fire drills, Pyongyang fired shells along the disputed western sea border between the two nations. One shell landed in South Korean waters, leading marines to return fire into North Korean waters.
No shells have been fired at land or military installations on either side, according to an official with South Korea's Joint Chiefs of staff, but in 2010 two South Korean soldiers and two civilians were killed when North Korea fired artillery shells at Yeonpyeong Island. On Monday residents on the South Korean islands of Baengnyeong and Yeonpyeong were moved into shelters. The South also scrambled F-15 fighters to patrol the border.
The exchange came a day after North Korea complained about the U.N. Security Council condemning its recent "self-defensive" ballistic missile launch while "turning a blind eye to the U.S. madcap nuclear war exercises." "We would not rule out a new form of nuclear test for bolstering up our nuclear deterrence," the North's said in a statement. It's unclear what they meant by "new form," but it's believed that North Korea is trying to make nuclear devices that could be delivered via intercontinental ballistic missile.
Analysts say there's no sign that a fourth nuclear test is imminent, and South Korea responded to the announcement with its own vague threat. Cho Tai-young, a spokesman for the South Korean Foreign Ministry, said in a statement, "North Korea should bear in mind that if it ignores the stern demand from the neighboring countries and the international community and carries out a nuclear test, it will have to pay a price for it."