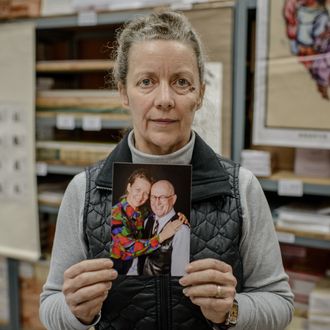 Karen Short holds a photo of her husband.
Photo: PHILIPPE LOPEZ/AFP/Getty Images
Last week, the United States and South Korea began their annual military exercises, and as predicted, North Korea has responded by acting somewhat crazier than usual. For the second time in five days, North Korea launched missiles into the sea off its east coast on Monday. The two missiles flew 310 miles, which means they could have hit Japan and South Korea (the four launched on Thursday flew less than half as far). Less predictably, North Korea also released 75-year-old Australian Christian missionary John Short, who was arrested last month, after he made a (obviously coerced) confession.
After entering the country as a tourist, Short was accused of committing "a criminal act by secretly spreading his Bible tracts around a Buddhist temple in Pyongyang" last month, and distributing Christian leaflets on a metro train during another visit in August 2012. North Korea released photos of Short writing his "confession," which was in stilted English for some reason. "I deeply apologize for what I have done by spreading my Bible tracts on February 16th, the birthday of His Excellency Kim Jong Il," he said.
North Korea's state news agency reported that the authorities decided to release Short, "given the generosity of the laws of our republic and considering his advanced age," and he landed in a Beijing airport on Monday morning.
In December, North Korea "expelled" an 85-year-old Korean war veteran after accusing him of war crimes and holding him prisoner for more than a month. Despite the United States' many calls for his release, Kenneth Bae, the 45-year-old Korean-American missionary arrested in November 2012, is still serving a sentence of fifteen years of hard labor.