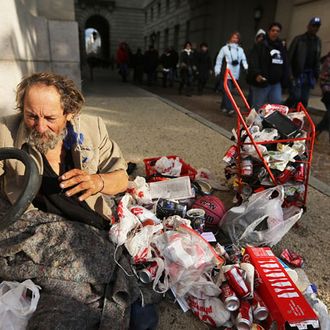 Photo: Mario Tama/2013 Getty Images
During his first couple months in office, Mayor de Blasio, who, while running for office, pledged to work to ease New York's homelessness problem, has taken some steps toward fulfilling his promise: First, there was the symbolic gesture of having Dasani Coates, the subject of Andrea Elliot's harrowing New York Times "Invisible Child" series, play a role in his inauguration. He then reversed a Bloomberg policy that prevented some homeless families from staying in city shelters on freezing nights, and he has since transferred 400 kids out of some of New York's most squalid shelters. Unfortunately, this January, New York had more homeless families in its shelters than ever before. Obviously, that's better than allowing them to sleep on the street, but there's still a lot of work to do.
A new report from the Coalition for the Homeless shows that a record-breaking 53,615 people stayed overnight in shelters in the first month of 2014. Per NBC New York: "The number of newly homeless families entering the system rose 12 percent. It says the number of homeless children rose by 8 percent and single adults by 5 percent. The average stay for families with children was 14.5 months, another record."
The Coalition for the Homeless's executive director, Mary Brosnahan, told the New York Times that they have been "working closely" with de Blasio so far, and a de Blasio spokeswoman said, "We look forward to working with the coalition on implementing comprehensive policy solutions to lift up families and individuals facing crisis," which certainly sounds pretty different from Bloomberg's often strained relationship with the organization. Still, Brosnahan said it was important to make sure that the new administration actually implements the specific recommendations included in the report, instead of engaging in a "demonstration program and punting the ball to next year at this time," especially given the "competing issues" de Blasio must contend with now that he is actually in office. "There's a lot going on in the city in any given day," she explained. Hopefully, getting homeless families the help they need can become one of them.