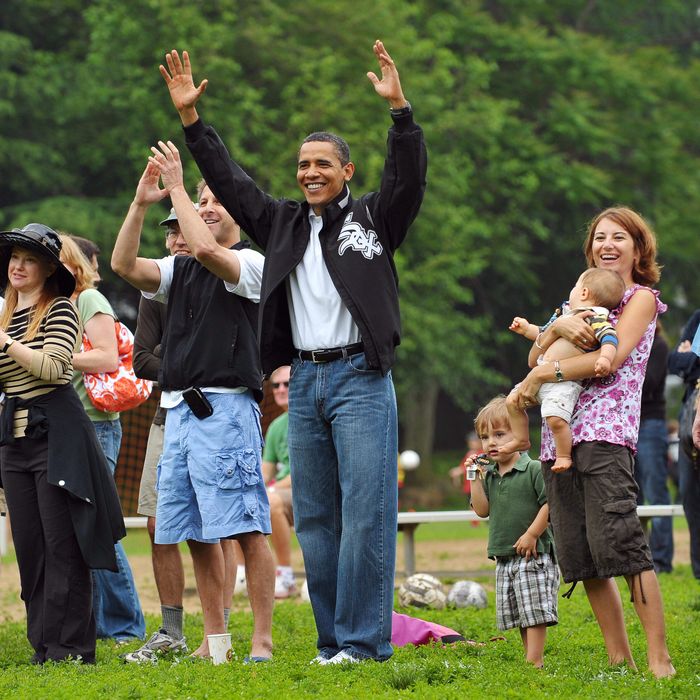 At Malia's soccer game in 2009, looking Dad Casual.
Photo: MANDEL NGAN/AFP/Getty Images
President Obama, trying desperately to reach America's young people ahead of the March 31 Affordable Care Act deadline, has had a busy week, appearing on Between Two Ferns, exploding his fist bumps, shopping at the Gap, and granting interviews to Ryan Seacrest. But he'll never shake his fatherly vibes. On the radio today, the president fought back against critics of his fashion sense, insisting his family "thought for a dad, I displayed reasonably good taste" during his midtown retail excursion, in which he bought cardigans for Michelle and the girls.
As for his own wardrobe, "I've been unfairly maligned about my jeans," Obama told Seacrest. That's not quite true, as a quick look back proves — he's been pretty fairly maligned.
"The truth is, generally I look very sharp in jeans," said the president this morning. "There was one episode like four years ago in which I was wearing some loose jeans mainly because I was out on the pitcher's mound and I didn't want to feel confined while I was pitching, and I think I've paid my penance for that. I got whacked pretty good. Since that time, my jeans fit very well."
But the historical record shows less of a progression than an inconsistent assortment of disappointing denim. None, in our estimation, look especially "sharp." And that's okay! Presumably he has more important things to worry about, but then there's no need to be defensive.
At an earlier first pitch, in 2005, Obama went reasonably slim and a tad dark: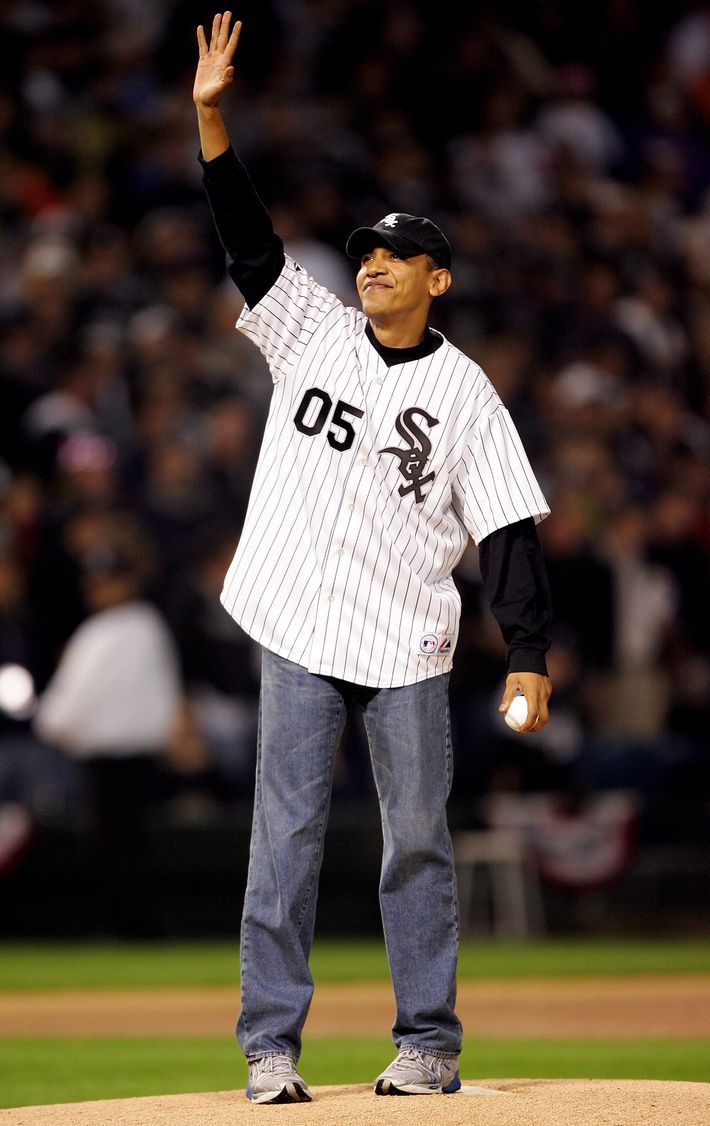 In 2008, it was basically still 1985: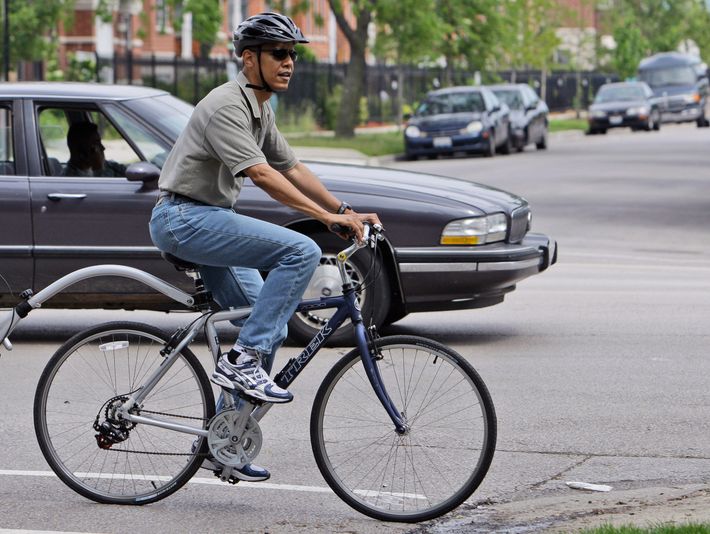 And here's the offending pair he mentioned, from 2009: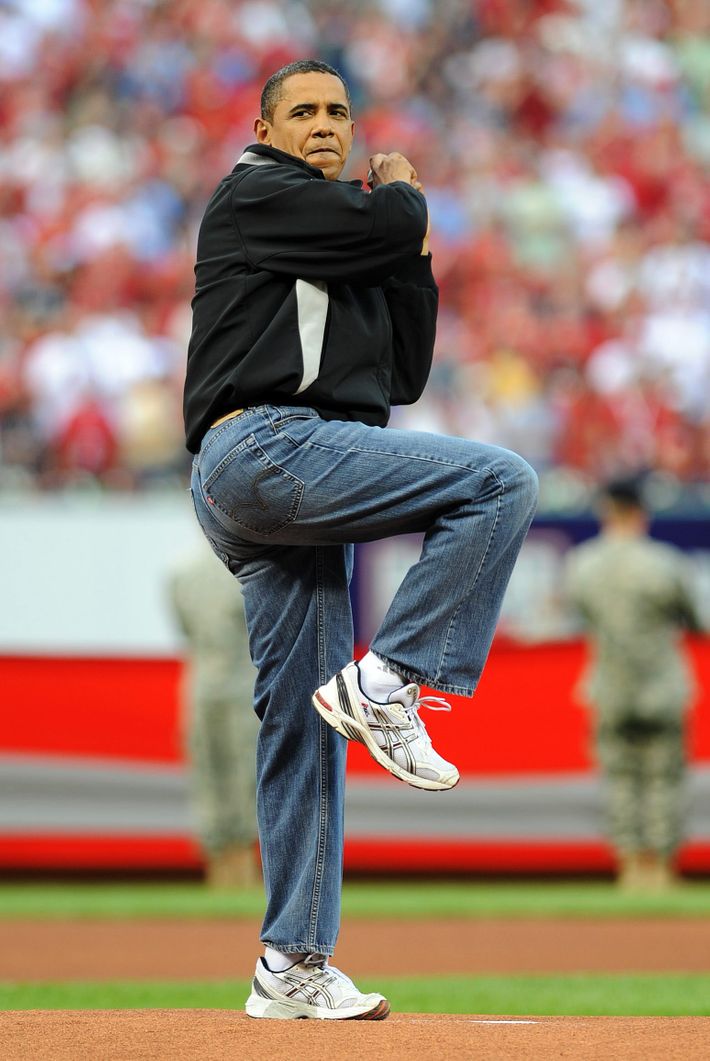 More than dad jeans, even — those are mom jeans, light in wash and spacious in the butt.
"I'm a little frumpy," he admitted afterward. "Those jeans are comfortable, and for those of you who want your president to look great in his tight jeans, I'm sorry — I'm not the guy."
Unfortunately, it wasn't just to leave room for his wind-up motion. In a non-sporty context, Obama still prefered a looser fit and questionable wash. Also from 2009: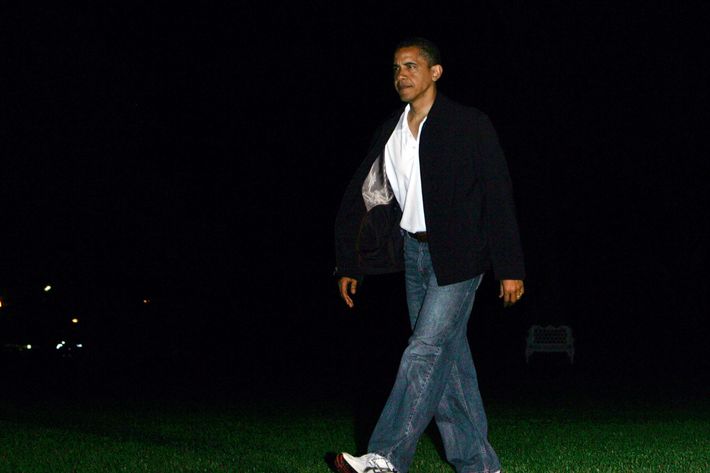 And then there are the outliers, like this snugger, lighter pair from the same year (it could just be the angle):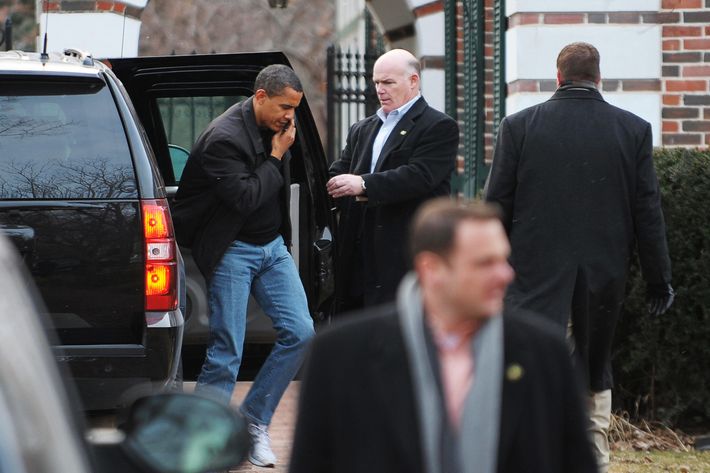 In 2010, things got really bad, with added mandals. How's the leader of the free world rocking sandals with jeans?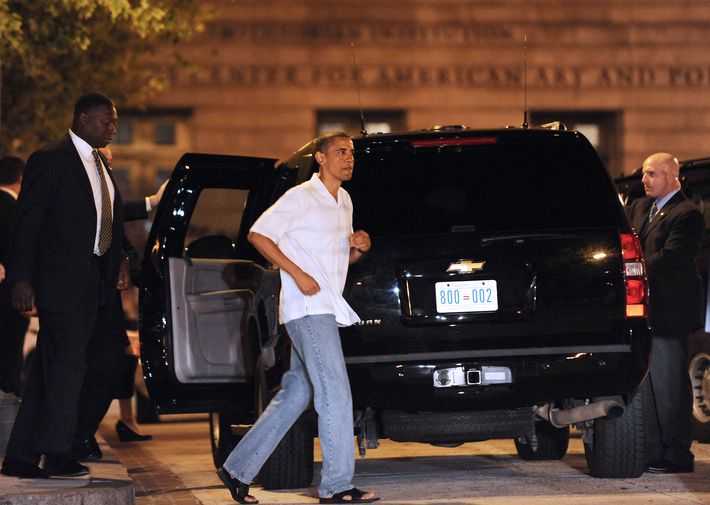 A 2010 switch in color, plus Nike ankle socks: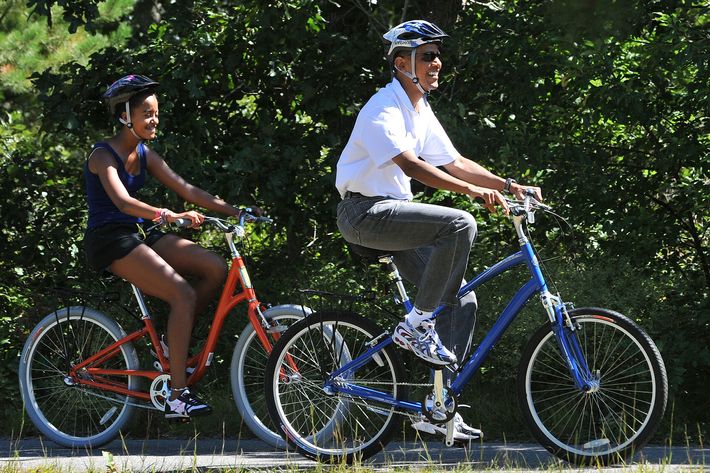 And then back to the extra-medium in 2011: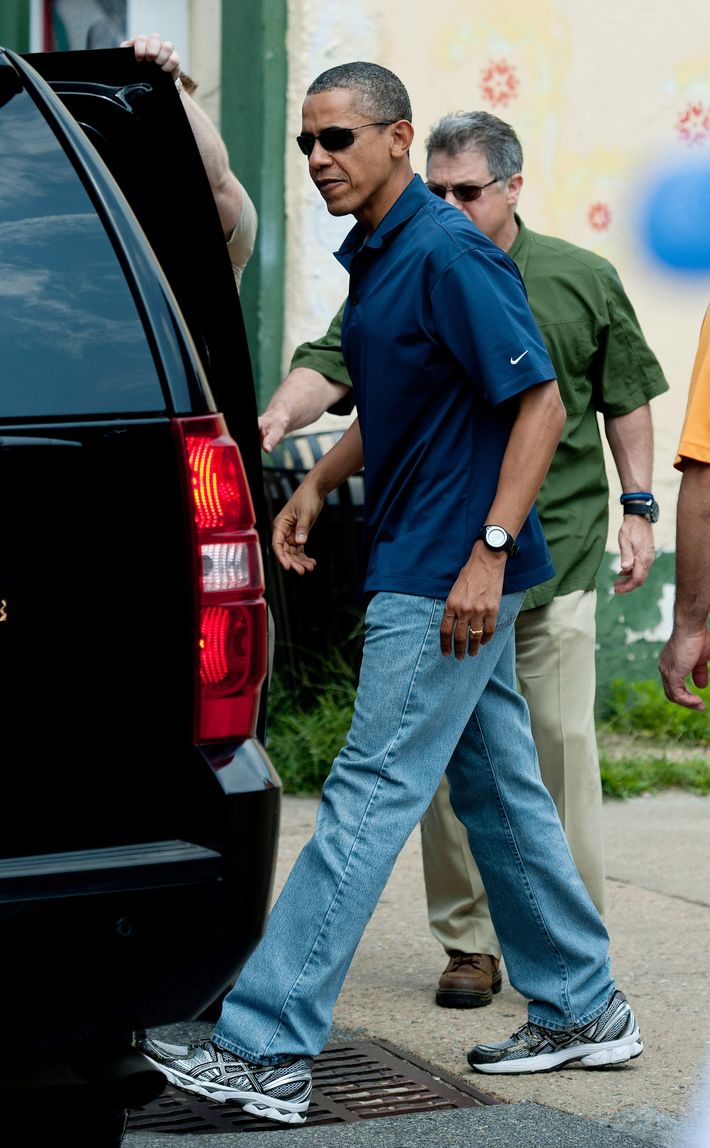 A better wash, in 2011, but with Pumas and no socks: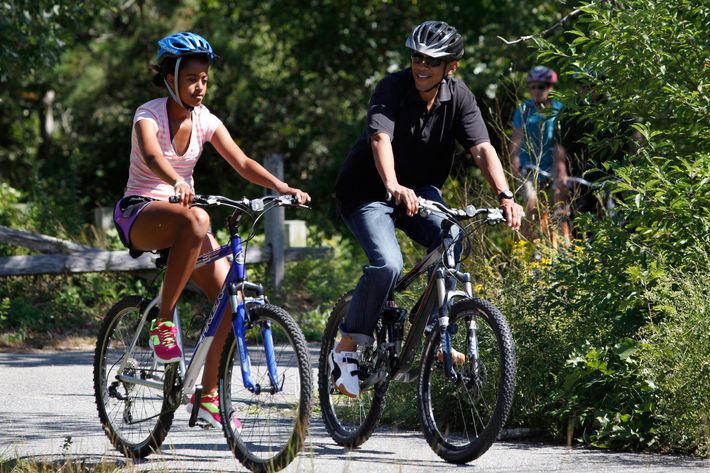 But back to baggy and sandals in January of 2013: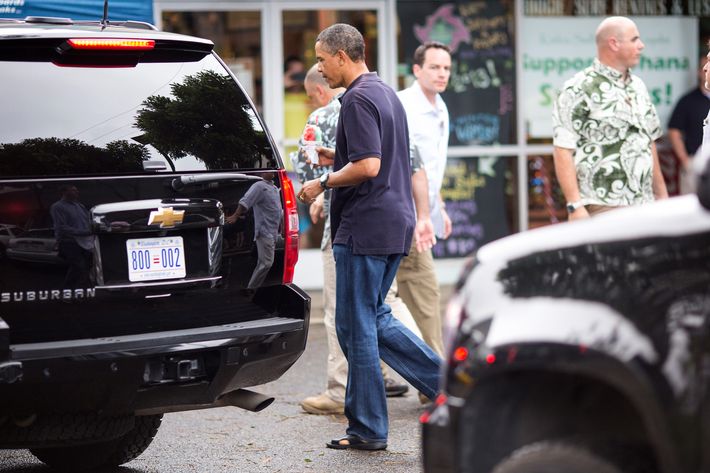 Late last year, he did improve a bit, pairing a dark wash with the old tuck-and-belt: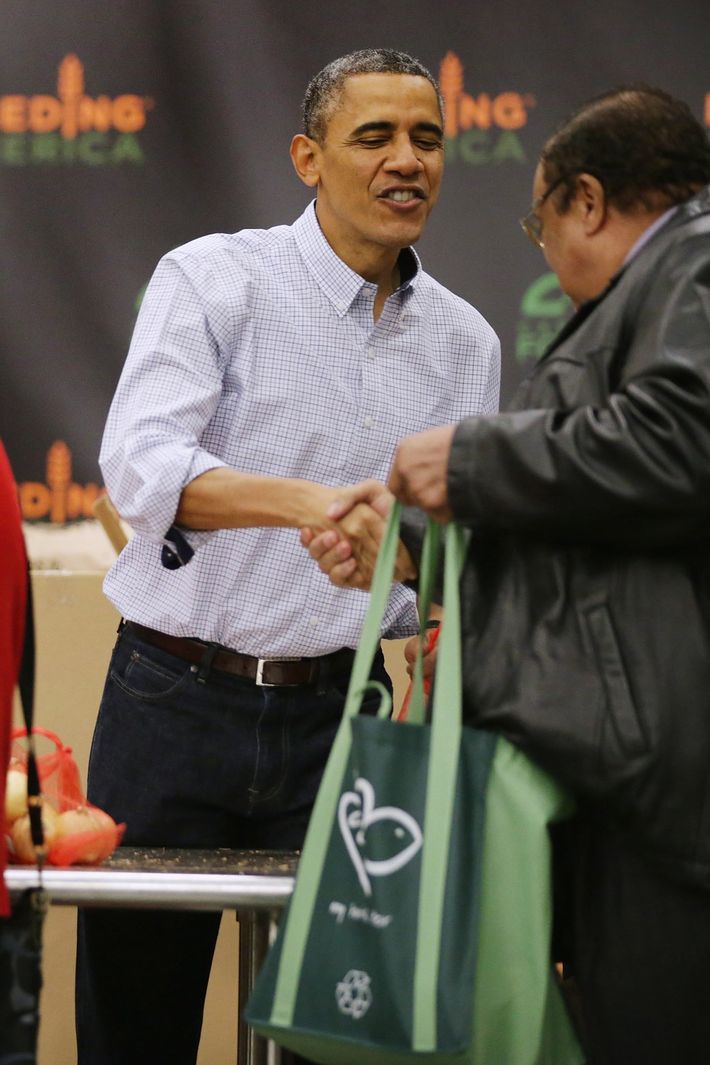 And here he is in December, looking downright Dad Respectable: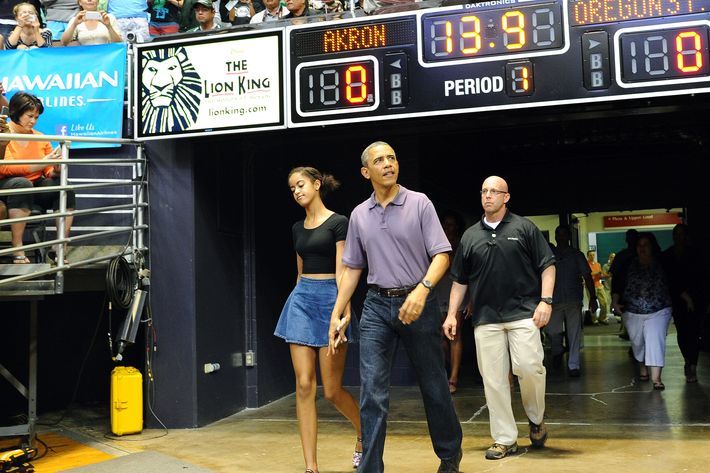 In all, the looks, if not sharp, are age appropriate. He is a 52-year-old man who mostly wears suits and should probably not be wearing skinnier pants anyway, for the good of the nation and his circulation. Not to metion, for someone of his stature, even the worst jeans are better than the indignity of shorts.