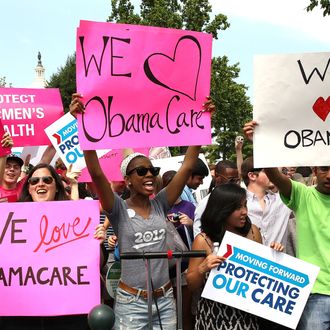 Photo: Mark Wilson/Getty Images
While nearly every Obamacare deadline has been extended in some way, two weeks ago Health and Human Services Secretary Kathleen Sebelius told Congress there would be no delay in the penalty for those who fail to sign up for insurance by March 31. Yet on Tuesday night, officials told the Washington Post that stragglers will be allowed to sign up after the deadline with no penalty, as long as they started the process before March 31. Sebelius had hinted that the agency may provide "special enrollment periods" for certain people, and technically the extension only applies to those who were unable to sign up before April. However, to qualify enrollees just need to click a box on healthcare.gov to indicate that they tried to sign up on time. The Post helpfully explains, "This method will rely on an honor system; the government will not try to determine whether the person is telling the truth."
While there's now a loophole for anyone weirdly determined to wait until the absolute last minute to enroll, the intent is mainly to prepare for the possibility of more technical difficulties if the federal marketplace is inundated in the next few days. "Open enrollment ends March 31. We are experiencing a surge in demand and are making sure that we will be ready to help consumers who may be in line by the deadline to complete enrollment — either online or over the phone," HHS spokeswoman Joanne Peters told Politico.
People can ask for an extension via healthcare.gov through about mid-April, though an HHS official told the Post that the exact time frame depends on how many people request it, and officials haven't settled on how long people will have to select a health plan. Even after that undetermined deadline has passed, customers will be able to request more time through a call center. At that point, extensions will only be granted to people experiencing certain hardships, such as having a new baby, getting a divorce, or losing a job with health insurance. However, the Post notes that once again, "people will still be trusted to tell the truth about why they need more time."
The extra time could make it difficult for insurance companies to set next year's premiums, but it helps the administration reach its goal of insuring as many people as possible. And even if it's beginning to feel like the government is a permissive parent who can't stick to their own rules, don't try to tell the feds you were just holding that pot for a friend.