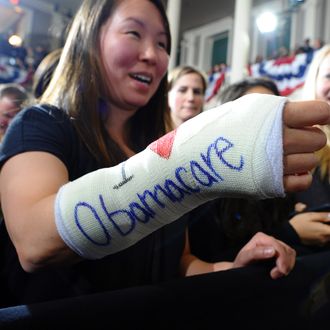 More than 5 million people signed up for coverage on the new health exchanges as of Monday, raising hopes that the Obama administration can reach its goal of 6 million enrollments by the March 31 deadline. The Congressional Budget Office already scaled back the target from 7 million in light of problems with the launch of healthcare.gov, and it looked like the administration would fail to reach even the revised goal after only 940,000 people signed up in February. However, things picked up in the last two weeks, with 800,000 people selecting health plans on the state and federal marketplaces.
"The last several days have been the busiest since December," Marilyn Tavenner, administrator of the U.S. Centers for Medicare and Medicaid Services, said in a blog post on Monday. "Last week, HealthCare.gov saw more than 4 million visits—and an additional 1 million visits this weekend."
The numbers were always expected to pick up as the deadline approached, so it's unclear how much of the surge can be attributed to the administration's recent efforts to reach moms, Latinos, basketball fans, and young people. However, it's probably safe to say that President Obama's ostensibly undignified appearance on "Between Two Ferns" was far more effective than last month's attempt to capitalize on the Doge meme.