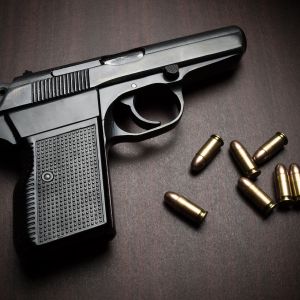 At around 6 p.m. on Friday, 86-year-old Brooklyn resident Heriberto Pagan shot his grandson, 47-year-old Michael Feliciano, and Feliciano's girlfriend, 28-year-old Claritle Christina Huerta, on Staten Island before turning the gun on himself. Both Pagan and Huerta died, while Feliciano remains in critical condition, according to CBS New York.
The New York Daily News reports that Pagan was angry that Feliciano, Huerta, and their 4-month-old child (who was unharmed) were living in the Park Hill home of his daughter (and Feliciano's mother), 69-year-old Mildred Feliciano, who has Alzheimer's disease and no longer lives in New York. A judge had recently approved Feliciano's request to evict her son (who has been arrested on drug and theft charges "multiple" times) and his family, though it doesn't seem that they had received an eviction notice yet. The New York Post reports that Pagan's wife, who now lives in Puerto Rico, had also been trying to get Feliciano and Huerta to leave the house for some time. "They've fought outside before — we've heard them fighting," a neighbor named Linda Wu told the Post after the incident.
According to the Post and the Daily News, Pagan confronted his grandson in front of the house before shooting him in the face. He then entered the house's kitchen, where he shot Huerta in the head, killing her. Afterward, he drove his car a few blocks away, stepped outside, and shot himself in the head. Meanwhile, the police were called and all three members of the family were rushed to Richmond University Medical Center. Though Pagan was alive when he arrived there, he later died from his self-inflicted injury.